<!- mfunc search_box_body ->
<!- /mfunc search_box_body ->
<!- mfunc feat_school ->
Featured Programs:
Sponsored School(s)
Sponsored School(s)
All school search, finder, or match results, as well as colleges and universities displayed as "Featured School(s)" or "Sponsored Content" are advertisers that compensate us for placement on this site. The resources, editorial content, and school evaluations published on this site are developed independent of the schools that advertise here.
<!- /mfunc feat_school ->
Sometimes a job aligns so perfectly with a person's hobbies, interests and natural disposition that it's really hard to believe it's a job at all. A lot of game wardens live that dream. Days can pass that are so sweet they can't believe they're getting paid. The same goes for other members of conservation teams working with state agencies and the U.S. Fish and Wildlife Service - forestry technicians, fisheries biologists, and environmental scientists.
But there's also risk, moments of frustration, anxiety and fear when wardens have to put themselves in situations few would volunteer for; when a wildfire won't be tamed, threatening homes and property even beyond the protected wilderness area, or when a cougar threatens to attack a group of hikers and a snap decision needs to be made about tranquilizing and transporting the animal or putting it down.
This is the very thing that makes experience such a fundamental component of qualifying for these jobs. Sometimes experience is an unequivocal requirement, sometimes it can substitute for holding a degree, but in every case employers see it as extremely valuable. This is why experience is often the deciding factor when selecting a candidate from a huge pool of well-qualified applicants all competing for a limited number of jobs.
Most state departments of natural resources or fish and wildlife divisions, and definitely the USFWS, look for candidates who have months if not years of related experience. While not everybody can claim to have a professional background in law enforcement or wildlife management, everybody can gain some very valuable experience serving the same agency they hope to spend their career with.
Through student internships, volunteerism or entry-level seasonal jobs, the people aspiring to one day become game wardens gain the experience they need to get there. These kinds of experience opportunities offer a chance for people to get their hands dirty performing tasks in the same environment game wardens work in every day:
Wildlife population surveys involving insects, fish, reptiles, birds, marine mammals and more
Fire lookout and forestry management
Lifeguarding – a great way to pick up first aid skills and water safety experience
Fisheries, fish breeding, and marine environments
Boating and water safety courses
Staffing wildlife and interpretation centers
Environmental protection, cleanup, habitat maintenance and the identification and removal of invasive plants
Volunteer Opportunities – Every state DNR or wildlife department offers opportunities for the general public to get involved and volunteer. You can choose from a variety of projects to work on and gain hundreds if not thousands of hours of relevant volunteer experience.
By volunteering in programs that are sponsored by your state's natural resources department you gain solid references that can go a long way when you start applying for game warden positions.
Volunteering can also be a lot of fun, and you get to work with like-minded people who value the importance of the work being done.
Internships – Most state fish and game agencies offer internships for students already enrolled in a college or university program majoring in wildlife management, environmental science, biological science and more. Some also offer internships for recent college graduates, high school seniors, and even the general public. 
Internships are often paid, but many times they are not. The money is never the reason for interning; the main purpose is to develop practical skills in your field through a mentored boots-on-the-ground approach. 
If you've made it through a game warden internship, that proves to any prospective employer that you've got the grit and the dedication for the job. They're not going to have to worry about you breaking down during the training academy because you've already proven yourself more than most other green recruits. 
The length of an internship can vary anywhere from several weeks to months or even years. A lot depends on the requirements of your degree program.
Seasonal Jobs – Like volunteering, seasonal employment is a great way to gain some general experience with the employer you hope to spend your career working for, and an opportunity to get your name and social security number on file with the payroll department. Seasonal jobs provide a great opportunity to get to know the team you hope to work with, and for them to get to know you.
A lot of seasonal jobs are entry-level and manual in nature; trail building and maintenance, fire suppression, facilities maintenance, and general labor tasks. However there are also plenty of seasonal opportunities to work as a wildlife biology assistant in fish hatcheries or conducting wildlife population surveys.
Find Pre-Professional Experience Opportunities in Your State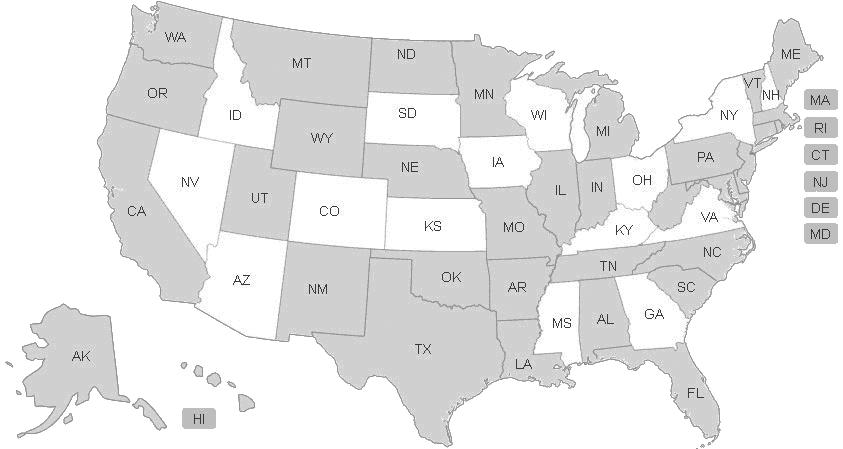 This state-by-state guide makes it easy to browse opportunities for volunteering, interning and seasonal employment in your area. Whether you're looking to work with a state agency or on federally protected lands under the management of the U.S. Fish and Wildlife Service, you'll find the pre-professional experience opportunities you need to become a strong candidate.

---
Alabama
Alabama Department of Conservation and Natural Resources (DCNR)
Volunteer Opportunities
College Internships
Seasonal Employment – You can apply for seasonal positions through the Alabama Personnel Department, including:
Forest fire lookout
Parks worker
Resort worker
Life guard
Laborer
Volunteer Opportunities On Federal Lands in Alabama that Fall Within the Jurisdiction of the U.S. Fish and Wildlife Service
---
Alaska
Alaska Department of Fish and Game
Volunteer Opportunities
College Internships
College Intern I with the Fish and Game Department in Juneau
College Intern II with the Fish and Game Department in Glennallen
Seasonal Employment – You can find seasonal jobs posted on the Alaska Job Center Network and Workplace Alaska:
Fish and Wildlife Technician II
Fish and Wildlife Technician III
Fishery Biologist I
Volunteer Opportunities On Federal Lands in Alaska that Fall Within the Jurisdiction of the U.S. Fish and Wildlife Service
---
Arizona
Arizona Game and Fish Department
Volunteer Opportunities
College Summer Internships
Desert tortoise telemetry
GPS data acquisition
Electro fishing and gill netting
Creel census
Lake stream surveys
Seasonal Employment – You can find seasonal positions with the Arizona Game and Fish Department posted on the state's job website.
Volunteer Opportunities On Federal Lands in Arizona that Fall Within the Jurisdiction of the U.S. Fish and Wildlife Service
---
Arkansas
Arkansas Game and Fish Commission
Volunteer Opportunities
College Internships
Seasonal Employment – You can find seasonal and full time positions with the Arkansas Game and Fish Commission's job opportunities website.
Volunteer Opportunities On Federal Lands in Arkansas that Fall Within the Jurisdiction of the U.S. Fish and Wildlife Service
---
California
California Department of Fish and Wildlife
Volunteer Opportunities
College Internships
Seasonal Employment
Volunteer Opportunities On Federal Lands in California that Fall Within the Jurisdiction of the U.S. Fish and Wildlife Service
---
Colorado
Colorado Parks and Wildlife
Volunteer Opportunities
Internships
Seasonal Employment
Statewide seasonal jobs include interpretive naturalist, lifeguard, campground attendant, maintenance worker, boat assistant, and swim beach entrance attendant
Volunteer Opportunities On Federal Lands in Colorado that Fall Within the Jurisdiction of the U.S. Fish and Wildlife Service
---
Connecticut
Connecticut Department of Energy and Environmental Protection
Volunteer Opportunities
Boating safety courses – located at facilities statewide
College Internships – These are available through the Connecticut Department of Energy and Environmental Protection's internship website in areas such as the following:
Biology
Chemistry
Conservation air-land-water
Conservation enforcement
Environmental education
Environmental studies
Fisheries management
Forestry management
Geographic Info Systems (GIS)
Land use and planning
Laws and regulations
Wildlife management
Seasonal Employment
Volunteer Opportunities On Federal Lands in Connecticut that Fall Within the Jurisdiction of the U.S. Fish and Wildlife Service
---
Delaware
Delaware Division of Fish and Wildlife
Volunteer Opportunities
Internships
Environmental summer camp internships
Environmental education internships
Field environmental stewardship research internships
Outdoor skills internships
Program management and research internships
Seasonal Employment
Seasonal marina custodian
Seasonal trail groundsman
Seasonal range officer
Seasonal ocean lifeguard
Seasonal park patrol officer
You can find seasonal jobs on the state's employment website
Volunteer Opportunities On Federal Lands in Delaware that Fall Within the Jurisdiction of the U.S. Fish and Wildlife Service
---
District of Columbia – Washington DC
Department of Energy and Environment
Volunteer Opportunities
Natural resources
Fisheries and wildlife
Watershed protection
Toxic substances
Water quality
Stormwater manager
Find a complete list of volunteer opportunities, and an application, on the Department of Energy and Environment's Green Pathways Volunteer website
College Internships – These are available for graduate students in the following areas:
Environmental services
Natural resources
Water quality
Lead and healthy homes
Air quality
See a full list of college internships on the Department of Energy and Environment's Green Pathways Fellows website
Seasonal Employment – Summer jobs at the Department of Energy and Environment are available in the following areas:
---
Florida
Florida Fish and Wildlife Conservation Commission
Volunteer Opportunities
College Internships
 Volunteer Opportunities On Federal Lands in Florida that Fall Within the Jurisdiction of the U.S. Fish and Wildlife Service
---
Georgia
Georgia Department of Natural Resources
Volunteer Opportunities – Check with these regional education centers for any current volunteer opportunities:
Internships
Seasonal Employment
Seasonal fire crews
The DNR maintains a list of all seasonal and full-time employment opportunities on its careers webpage 
Volunteer Opportunities On Federal Lands in Georgia that Fall Within the Jurisdiction of the U.S. Fish and Wildlife Service
---
Hawaii
Hawaii Department of Land and Natural Resources
Volunteer Opportunities
Internships – Hawaii's DLNR offers internships through several partner organizations:
Seasonal Employment
Volunteer Opportunities On Federal Lands in Hawaii that Fall Within the Jurisdiction of the U.S. Fish and Wildlife Service
---
Idaho
Idaho Department of Fish and Game
Volunteer Opportunities – Available throughout Idaho at these locations:
Panhandle region
Clearwater region
Southwest region
Magic Valley region
Southeast region
Upper Snake region
Salmon region
The Department of Fish and Game maintains a full list of volunteer opportunities on its website
Internships – Wildlife diversity internships may be available at sites throughout the state, including:
Seasonal Employment
 Volunteer Opportunities On Federal Lands in Idaho that Fall Within the Jurisdiction of the U.S. Fish and Wildlife Service
---
Illinois
Illinois Department of Natural Resources
Volunteer Opportunities
College Internships – The DNR works with any college that wants to develop an internship program, and allows college students to gain academic credit while working with any of these opportunities:
Volunteer network program divisions
Volunteer sites
Volunteer districts
Seasonal Employment
You can find a full list of seasonal and full-time DNR jobs on the state's employment website 
Volunteer Opportunities On Federal Lands in Illinois that Fall Within the Jurisdiction of the U.S. Fish and Wildlife Service
---
Indiana
Indiana Department of Natural Resources
Volunteer Opportunities
Ford Hoosier Outdoor Experience – basic fishing
Ford Hoosier Outdoor Experience – flying wild bird watching
Cleanup at public access sites along the state's waterways
Summer bat roost monitoring project
See a full list of volunteer opportunities on the DNR's volunteer webpage
College Internships – You can apply for an internship in any of the following areas by filling out an application:
Property management – roles of regulatory agencies in management
Interpretation – interpretive and administrative techniques, interpretive resources, environmental education, and ecology
Natural resources planning and management – inventories of plants and wildlife, habitat improvement plans, prescribed burns, and invasive species removal
Seasonal Employment
Seasonal lifeguard
Seasonal naturalist aide
Seasonal naturalist
Seasonal resource management technician
Seasonal tour guide
All seasonal and full-time jobs are posted on the state's jobs website
Volunteer Opportunities On Federal Lands in Indiana that Fall Within the Jurisdiction of the U.S. Fish and Wildlife Service
---
Iowa
Iowa Department of Natural Resources
Volunteer Opportunities
Fishing Friday and Gray's Lake Park
Educational programming and outdoor skills at Springbrook State Park
Swan releases at state parks and marshes
Group cleanup work and plantings in state forests
Fishing instruction at lakes throughout the state
See all current volunteer opportunities on the DNR's volunteer webpage
College Internships – The DNR manages Iowa's Pollution Prevention (P2) Intern Program that includes projects like:
Water conservation
Water and waste water treatment
Process improvements
Solid and hazardous waste reduction
Seasonal Employment
Park trail maintenance
Park patrols
Park mowing and trimming work
Americorps trail crew
The DNR maintains a full list of seasonal and full-time positions on its employment website 
Volunteer Opportunities On Federal Lands in Iowa that Fall Within the Jurisdiction of the U.S. Fish and Wildlife Service
---
Kansas
Kansas Department of Wildlife, Parks, and Tourism
Volunteer Opportunities
Seasonal Employment
Volunteer Opportunities On Federal Lands in Kansas that Fall Within the Jurisdiction of the U.S. Fish and Wildlife Service
---
Kentucky
Kentucky Department of Fish and Wildlife Resources
Volunteer Opportunities
High School and College Internships – Internships through the DFWR are offered at the Salato Wildlife Education Center to students studying the following subjects:
Wildlife biology
Wildlife management
Horticulture
Education
Public relations
Other related fields
Seasonal Employment
Interim fish and wildlife technician
Interim conservation camp counselor
For a full list of seasonal and full-time jobs see the DFWR's career webpage
Volunteer Opportunities On Federal Lands in Kentucky that Fall Within the Jurisdiction of the U.S. Fish and Wildlife Service
---
Louisiana
Louisiana Department of Wildlife and Fisheries
Volunteer Opportunities
College Internships – The LDWF coordinates with other agencies to offer the following internships:
Seasonal Employment
You can find a full list of seasonal and full-time positions on the state's employment website
Volunteer Opportunities On Federal Lands in Louisiana that Fall Within the Jurisdiction of the U.S. Fish and Wildlife Service
---
Maine
Department of Inland Fisheries and Wildlife
Volunteer Opportunities
Tour guides
Gardeners
Landscapers
Wildlife transporters
Animal talk presenters
All volunteer opportunities are posted on the IF&W's online volunteer section
College Internships – The Maine Department of Inland Fisheries and Wildlife works with colleges such as the University of Maine at Farmington to coordinate student internships
Seasonal Employment
You can find all seasonal and full-time jobs listed on the IF&W's career website
Volunteer Opportunities On Federal Lands in Maine that Fall Within the Jurisdiction of the U.S. Fish and Wildlife Service
---
Maryland
Maryland Department of Natural Resources
Volunteer Opportunities
Internships – The DNR partners with different organizations to offer internships such as:
Seasonal Employment – Dozens of seasonal positions are available at the following locations:
Point Lookout State Park
Gunpowder Falls State Park
Rocky Gap State Park
Seasonal lifeguard – 45 state parks
Seasonal technician with the Fish and Wildlife Health Program
A list of current available jobs can be found on the state's careers website
Volunteer Opportunities On Federal Lands in Maryland that Fall Within the Jurisdiction of the U.S. Fish and Wildlife Service
---
Massachusetts
Massachusetts Executive Office of Energy and Environmental Affairs, Department of Conservation and Recreation (DCR), and the Department of Fish and game (DF&G)
Volunteer Opportunities
College Internships – Check with the DCR or the DF&G about internship opportunities; past internships have involved:
Water conservation standards
Seasonal Employment
Fire fighter
Forestry assistant
Park interpreter
Laborer
Lifeguard
See a full list of available seasonal positions on the DCR's seasonal jobs website
Volunteer Opportunities On Federal Lands in Massachusetts that Fall Within the Jurisdiction of the U.S. Fish and Wildlife Service
---
Michigan
Michigan Department of Natural Resources
Volunteer Opportunities
Big Oaks Equestrian State Campground – equestrian volunteer work
Waterloo Recreation Area – stewardship work
Algonac State Park – stewardship work
Island Lake Recreation Area – stewardship work
Highland Recreation Area – stewardship work
Pinckney Recreation Area – stewardship work
See a complete list of current volunteer opportunities on the DNR's volunteer calander
College Internships – These are available to current college students and recent graduates; you can find opportunities detailed on the DNR's student internship webpage
Seasonal Employment
Lab assistant with the natural resources laboratory
Assistant with planning and natural resources development
A full list of seasonal and full-time employment is available on the state's jobs webpage and the DNR's seasonal positions webpage 
Volunteer Opportunities On Federal Lands in Michigan that Fall Within the Jurisdiction of the U.S. Fish and Wildlife Service
---
Minnesota
Minnesota Department of Natural Resources, Fish and Wildlife
Volunteer Opportunities
College Internships
Buildings and grounds worker
Forestry GIS intern
Interpreter naturalist
Watercraft inspector
The DNR provides links to its full list of 200 summer internships on its internships webpage
Seasonal Employment
Forest fire responder
Natural resources worker
Interpreter naturalist
Groundskeeper
Agric technician
Roadside maintenance snow and ice driver
You can find a full listing of seasonal and full-time positions on the state's careers website
Volunteer Opportunities On Federal Lands in Minnesota that Fall Within the Jurisdiction of the U.S. Fish and Wildlife Service
---
Mississippi
Mississippi Department of Wildlife, Fisheries, and Parks
Volunteer Opportunities
College Internships – The MDWFP offers summer internships for students in several areas, including the following:
Law enforcement
Wildlife resources management
Fisheries resource management
License and boating registration
Hunting and boating education
Seasonal Employment
Volunteer Opportunities On Federal Lands in Mississippi that Fall Within the Jurisdiction of the U.S. Fish and Wildlife Service
---
Missouri
Missouri Department of Conservation
Volunteer Opportunities
College Internships – The Missouri Department of Conservation provides student internships each year; past internships have been in areas like:
Assistant wildlife ecologist
Cave biologist
Aquatic education specialist
Invasive species
Naturalist
Prairie and savannah restoration
Wetland resources
Fisheries management
Seasonal Employment
Volunteer Opportunities On Federal Lands in Missouri that Fall Within the Jurisdiction of the U.S. Fish and Wildlife Service
---
Montana
Montana Fish, Wildlife and Parks
Volunteer Opportunities
College Summer Internships
Seasonal Employment
Volunteer Opportunities On Federal Lands in Montana that Fall Within the Jurisdiction of the U.S. Fish and Wildlife Service
---
Nebraska
Nebraska Game and Parks
Volunteer Opportunities
Hunter education instructor
Youth fishing instructor
Campground host
Parks volunteer
See the Game and Park's volunteer webpage for a full listing
Seasonal Employment
Temporary facility maintenance technician
Temporary conservation technician
Temporary naturalist/park worker
Temporary facility maintenance
Temporary groundskeeper
See the Game and Park's current job openings webpage for a full list 
Volunteer Opportunities On Federal Lands in Nebraska that Fall Within the Jurisdiction of the U.S. Fish and Wildlife Service
---
Nevada
Nevada Department of Wildlife
Volunteer Opportunities
High School Seniors and College Student Internships – The Department of Wildlife provides internships to sponsor students who want to pursue a career in wildlife management
Seasonal Employment
A full list of seasonal and full-time jobs through the Department of Wildlife is provided on its employment webpage
Volunteer Opportunities On Federal Lands in Nevada that Fall Within the Jurisdiction of the U.S. Fish and Wildlife Service
---
New Hampshire
New Hampshire Fish and Game Department
Volunteer Opportunities
College Internships – The Fish and Game Department partners with schools to offer students a chance to serve as interns; for example White Mountains Community College has a Research Experience for Undergraduates (REU) program that partners with the Fish and Game Department
Seasonal Employment
See the Fish and Game's employment website for a complete list of seasonal and full-time jobs
Volunteer Opportunities On Federal Lands in New Hampshire that Fall Within the Jurisdiction of the U.S. Fish and Wildlife Service
---
New Jersey
New Jersey Department of Environmental Protection, Division of Fish and Wildlife
Volunteer Opportunities
Wildlife research
Fishing education
Operation of turkey, beaver, and otter check stations
Seasonal trout stocking programs
Hunting training range upkeep
Activities with the endangered and nongame species program
See the Division of Fish and Wildlife's volunteering webpage for a full list of opportunities
Internships
Seasonal Employment
Volunteer Opportunities On Federal Lands in New Jersey that Fall Within the Jurisdiction of the U.S. Fish and Wildlife Service
---
New Mexico
New Mexico Department of Game and Fish
Volunteer Opportunities
Seasonal Employment
Check the NMDGF's employment webpage for a full listing of seasonal and full-time positions
Volunteer Opportunities On Federal Lands in New Mexico that Fall Within the Jurisdiction of the U.S. Fish and Wildlife Service
---
New York
New York State Department of Environmental Conservation, Division of Fish and Wildlife
Volunteer Opportunities
College Internships
Environmental conservation officer
GIS data specialist
Outdoor recreation promotion
Air quality measurements
Catskill biodiversity
Climate change intern
Entomology
Freshwater fisheries
Seasonal Employment
Conservation security worker
Fish and wildlife technician
Laboratory technician
Fish culturist
Lifeguard
Environmental educator
Forestry assistant
Volunteer Opportunities On Federal Lands in New York that Fall Within the Jurisdiction of the U.S. Fish and Wildlife Service
---
North Carolina
North Carolina Wildlife Resources Commission
Volunteer Opportunities
Statewide amphibian survey
Breeding bird surveys
Reptile and amphibian population tracking
Sea turtle projects
Coastal waterbird projects
Bat population monitoring
College Internships
Wildlife law enforcement field intern
Box turtle project
Aquatic species monitoring
Wildlife educator
Habitat management
Aquatic conservation
Seasonal Employment
Volunteer Opportunities On Federal Lands in North Carolina that Fall Within the Jurisdiction of the U.S. Fish and Wildlife Service
---
North Dakota
North Dakota Game and Fish Department
Volunteer Opportunities
Seasonal Employment
Wildlife aide
Fisheries aide
Waterfowl banding technician
Volunteer Opportunities On Federal Lands in North Dakota that Fall Within the Jurisdiction of the U.S. Fish and Wildlife Service
---
Ohio
Ohio Department of Natural Resources, Division of Wildlife
Volunteer Opportunities
College and Non-College Internships
Wildlife research
Lifeguards
Water resources
Zoology
GIS mapping
Geologic investigations
More information at the internship section of the ODNR's employment webpage
Seasonal Employment
Coastal wetland natural resources specialist
Conservation worker
Natural resource worker
Volunteer Opportunities On Federal Lands in Ohio that Fall Within the Jurisdiction of the U.S. Fish and Wildlife Service
---
Oklahoma
Oklahoma Department of Wildlife Conservation
Volunteer Opportunities
College Internships – Students and college grads can apply for an internship with the Oklahoma Department of Wildlife Conservation if they are majoring in any of the following:
Wildlife conservation science
Wildlife ecology education
Biology communications
Zoology
Other related majors
Seasonal Employment
Seasonal positions are listed with full-time positions on the Department of Wildlife Conservation's careers webpage when they become available
Volunteer Opportunities On Federal Lands in Oklahoma that Fall Within the Jurisdiction of the U.S. Fish and Wildlife Service
---
Oregon
Oregon Department of Fish and Wildlife
Volunteer Opportunities
College Internships – The Oregon Department of Fish and Wildlife works with colleges such as the following to develop academic internship programs:
Seasonal Employment
Volunteer Opportunities On Federal Lands in Oregon that Fall Within the Jurisdiction of the U.S. Fish and Wildlife Service
---
Pennsylvania
Pennsylvania Game Commission
Volunteer Opportunities
College Internships – The Game Commission works with the Pennsylvania Department of Environmental Protection to offer internships to students with academic foci such as the following:
Biology
Earth science
Agronomy
Ecology
Environmental engineering
Soils science
Geology
Microbiology
Communications
Public relations
Seasonal Employment
Volunteer Opportunities On Federal Lands in Pennsylvania that Fall Within the Jurisdiction of the U.S. Fish and Wildlife Service
---
Rhode Island
Rhode Island Department of Environmental Management, Fish and Wildlife Division
Volunteer Opportunities – There are several volunteer teaching opportunities through the Fish and Wildlife Division, including:
Spincast and flyfishing
Educator workshops for Project Wild, Project Wild Aquatic, and Project WET
Freshwater and marine ecology
Aquaculture
College Internships – Students can coordinate their research with the DEM if they are studying subjects such as the following:
Freshwater fisheries
Wildlife conservation
Biology fieldwork
Laboratory work
Work involving live or dead animals
Fish hatcheries
Environmental education
Wildlife monitoring
Seasonal Employment
Wildlife recovery seasonal assistant
Seasonal surf beach manager
Seasonal non-surf beach manager
Naturalist coordinator
Survey coordinator
Lifeguard
Laborer
Volunteer Opportunities On Federal Lands in Rhode Island that Fall Within the Jurisdiction of the U.S. Fish and Wildlife Service
---
South Carolina
South Carolina Department of Natural Resources
Volunteer Opportunities
College Internships – The DNR works with colleges and universities throughout the state to hire interns for the summer who work in areas such as:
Wildlife biologists
Wildlife technicians
Controlled burns
Invasive plant control
Habitat management
Surveys of bird, bat, and bear populations
Boundary line marking
Seasonal Employment
Volunteer Opportunities On Federal Lands in South Carolina that Fall Within the Jurisdiction of the U.S. Fish and Wildlife Service
---
South Dakota
South Dakota Game, Fish and Parks
Volunteer Opportunities
College Internships – The South Dakota Game, Fish and Parks offers internships in the following areas:
Law enforcement
Park management
Wildlife and fisheries management
GIS and private lands management
Habitat management
Park planning and development
Outdoor education
Engineering
Social media and marketing
Seasonal Employment
Law enforcement
Wildlife fisheries technician
Wildlife habitat technician
Wildlife game technician
Ground maintenance
 Volunteer Opportunities On Federal Lands in South Dakota that Fall Within the Jurisdiction of the U.S. Fish and Wildlife Service
---
Tennessee
Tennessee Wildlife Resources Agency
Volunteer Opportunities
College Internships – TWRA offers internships as funding and resources are available; in the past internships related to subjects like:
Wildlife surveys
Fisheries and hatcheries
Forestry
Wildlife management
Stream surveys
Deer thermal imaging surveys
Seasonal Employment
A current list of seasonal and full-time employment opportunities is on the state's careers website
Volunteer Opportunities On Federal Lands in Tennessee that Fall Within the Jurisdiction of the U.S. Fish and Wildlife Service
---
Texas
Texas Parks and Wildlife Department
Volunteer Opportunities
College Internships – TPWD offers internships to currently enrolled college students in these fields:
Law enforcement
Wildlife
Communications
Coastal fisheries
Inland fisheries
Infrastructure
State parks
Human resources
IT
Executive office
Seasonal Employment
Maintenance assistant
Lifeguard
Clerk
Custodian
Volunteer Opportunities On Federal Lands in Texas that Fall Within the Jurisdiction of the U.S. Fish and Wildlife Service
---
Utah
Utah Division of Wildlife Resources
Volunteer Opportunities
College Internships – The Utah Division of Wildlife Resources works with schools to provide internships to students studying subjects like:
Wildlife biology
Wildlife management
Visitor center management
Program development
Wildlife education
Wildlife population surveys
Seasonal Employment
Wildlife technician
Fire technician
Groundskeeper
Forestry technician
Maintenance worker
Geological technician
Dispatcher
Find a full list of seasonal and full-time jobs online
Volunteer Opportunities On Federal Lands in Utah that Fall Within the Jurisdiction of the U.S. Fish and Wildlife Service
---
Vermont
Vermont Agency of Natural Resources, Fish and Wildlife Department
Volunteer Opportunities
College Internships – The ANR partners with colleges to offer experience to currently enrolled students in an internship, offering programs like:
Wildlife management
Wetland evaluation
Wetland assessment and monitoring
Wildlife surveys
Wildlife research
Seasonal Employment
Volunteer Opportunities On Federal Lands in Vermont that Fall Within the Jurisdiction of the U.S. Fish and Wildlife Service
---
Virginia
Virginia Department of Game and Inland Fisheries
Volunteer Opportunities
College Internships – The Department of Game and Inland Fisheries works with colleges to offer students internships that prepare them for work in fields like:
Law enforcement
Fisheries management
Wildlife biology
Public education
Public outreach
Marketing and information technology
Seasonal Employment
You can search the full list of seasonal and full-time jobs online
Volunteer Opportunities On Federal Lands in Virginia that Fall Within the Jurisdiction of the U.S. Fish and Wildlife Service
---
Washington
Washington Department of Fish and Wildlife
Volunteer Opportunities
College Internships – WDFW periodically offers internships to provide students with job training in a field related to wildlife; check with WDFW for current offerings
Seasonal Employment
Volunteer Opportunities On Federal Lands in Washington that Fall Within the Jurisdiction of the U.S. Fish and Wildlife Service
---
West Virginia
West Virginia Division of Natural Resources
Volunteer Opportunities
Seasonal Employment
List of all seasonal and full-time employment opportunities online 
Volunteer Opportunities On Federal Lands in West Virginia that Fall Within the Jurisdiction of the U.S. Fish and Wildlife Service
---
Wisconsin
Wisconsin Department of Natural Resources
Volunteer Opportunities
Citizen-based monitoring opporutnities – includes bird, breeding, frog, toad, turtle, deer, carnivore, bat, mussels, insects, plants, lakes, and invasive species monitoring
Volunteer instructor – covers topics including ATVs, hunting, snowmobiling, and boating
Internships – The DNR has internships geared towards on-the-job education for a career in fields like:
Wildlife technician
Environmental educator
Facilities operations
Grounds operations
Fishing
Wildlife management
Conservation
Natural resources management
Seasonal Employment
Volunteer Opportunities On Federal Lands in Wisconsin that Fall Within the Jurisdiction of the U.S. Fish and Wildlife Service
---
Wyoming
Wyoming Game and Fish Department
Volunteer Opportunities
Community outreach activities
College Internships – The Wyoming Game and Fish Department partners with schools to provide learning experiences for students interested in related fields; check with the department for any available internships
Seasonal Employment
Fisheries technician
Non-game biologists
Elk chronic wasting disease technician
Research technician
Volunteer Opportunities On Federal Lands in Wyoming that Fall Within the Jurisdiction of the U.S. Fish and Wildlife Service