<!- mfunc search_box_body ->
<!- /mfunc search_box_body ->
<!- mfunc feat_school ->
Featured Programs:
Sponsored School(s)
Sponsored School(s)
All school search, finder, or match results, as well as colleges and universities displayed as "Featured School(s)" or "Sponsored Content" are advertisers that compensate us for placement on this site. The resources, editorial content, and school evaluations published on this site are developed independent of the schools that advertise here.
<!- /mfunc feat_school ->
Corporal Eric Miller, Game Warden With the Utah Division of Wildlife Resources (UDWR)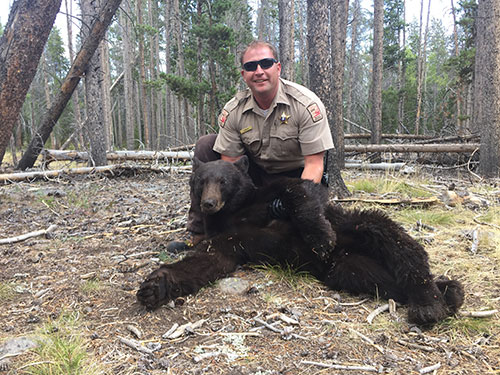 We sat down for a talk with UDWR conservation officer Corporal Eric Miller, but mostly we just listened. Corporal Miller is an affable guy, quick to laugh and all smiles. He has an infectiously positive attitude that has served him well, both when making the leap to a career in conservation law enforcement and in the years since while patrolling the wild lands of Northeastern Utah.
Corporal Miller opened up about his life as a game warden and what it took for him to make the transition to a career that's more personally rewarding than most men would expect from a job, and that offers more adventure than most men could handle.
Tell me a little bit about yourself. What is your name, educational background, official position, location…?
My Name is Eric Miller. I have a BS in Wildlife Science from Utah State University. I'm a game warden (Conservation Officer) for the Utah Division of Wildlife Resources (UDWR). I live in Roosevelt Utah, which is in the Northeastern region of Utah.
I'm currently serving in a Corporal position, which consists of overseeing the Aquatic Invasive Species (AIS) program for the Northeastern region. This is a new position being offered for the first time this year.
I have a beautiful wife and three crazy kids. We love all aspects of the outdoors, especially hiking, fishing, and camping.
What led you to become a game warden?
I've held several jobs in my life. At one point I thought I would be in the cabinetry business the rest of my life. When the economy dropped in 2008, I found myself without a job, with two kids, another on the way, and no way to support them. I was laid off in February 2009.
I consider myself a self-motivator and a hard worker but there was nothing in the job field that would pay me enough to save what I had built. I didn't stay down trodden for long. I immediately went to work trying to sell our house. We waited for the baby to be born and then after selling our house we moved to Logan Utah, so I could attend school in 2010.
I graduated in the spring of 2013. I immediately got a job as a wildlife biologist for a private company but my heart was set on becoming a game warden for the state of Utah. The opportunity came late in 2013 and I was hired February 2014.
Do feel you were adequately prepared for the job? If not, how so?
I do feel I was prepared for the job. I have a huge love for the outdoors and all the wild things that live in it. I'm an avid hunter and fisherman. I respect the laws and I feel I have a talent for peacefully resolving concerns the public has.
I'm a self-motivator and strive to be the best I can be each day.
What have you found to be the most surprising part of the job?
The most surprising thing about being a game warden is how many predicaments I get into. There is no way of knowing what is going to happen each day so I have to prepare for anything. It wasn't long before I realized that many of the offenders I would be dealing with are hard criminals. This means I am not only investigating poaching but drug use, drug dealing, and theft in many cases.
Here's an example of just one day I had recently. One morning after checking fisherman at Moon Lake in the Uintah Mountains, I drove to a nearby town to take care of a complaint that someone had a wild skunk as a pet. Normally this wouldn't be too bad of a call but the suspect is well known to the DWR as a poacher. I approached as I usually do, professional and kind. I even tried to inform the suspect that I would work with him in trying to make his pet legal but he wouldn't listen to me. It took four officers and a search warrant to finally get the skunk, luckily de-scented.
Next I decided to assist the game warden to the west of me in looking for people transporting live fish, skunk in tow. On the way to Starvation Reservoir, a family fight broke out in the town of Duchesne and we were the first to respond, skunk in tow. We managed to restrain a drunken father who was threatening his daughter. The local law enforcement took over from there. By the time we got to the lake most of the boats had left. We checked a few boats coming off the lake, skunk in tow, but we didn't find any violations. At the end of the day I found myself giving the skunk a bath because she was covered in Kippered Snacks, which I had on hand. Skunks love baths it turns out.
The point is, I could not predict the events of that one day if I tried. I have had hundreds of days like this in one way or another. * Laughing *
Do you feel there is a unique game warden "culture" or sense of community within your field?
Yes, there's a great appreciation for wild places and wild things as well as the brotherhood and sisterhood of law enforcement. Game wardens tend to always be in the right spot at the right time to help a patron out. There are BBQ's, campouts, vacations, and dinner appointments among game warden families. Our spouses tend to watch out for each other as well as those who aren't married.
And we always have plenty of snacks on hand in case we have to spend an unplanned night away from civilization. * Laughing *
Do you ever feel your job is dangerous? If so, in what way? Can you recall a specific incident?
A game warden's job is a dangerous one. As a law enforcement officer you have to always have your wits about you. As a game warden you not only have to have your wits about you but there needs to be a plan B and a Plan C in case something goes wrong. This is because a lot of the time our nearest back up is hours away and most of the people we come in contact with have guns and knives with them. When I'm in the middle of nowhere and come in contact with someone no matter how friendly, I treat every situation with respect that something could go wrong at any point.
I can think of a lot of dangerous incidents I've been in. I'll share two quickly…
I was only a game warden for 6 months when on the police radio I heard shots fired. Within minutes I was on scene of a drive by shooting in the town of Fort Duchesne. It was night and one suspect was on foot in thick willows and Russian olives. I had my AR-15 out with my light on. I was clearing buildings and sheds thinking this guy is armed and already killed one person. I was relieved when the K9 got to him first just a few hundred yards off my location.
The second incident was a big poaching case I was working on with our DWR investigator. The suspect had poached and assisted others in poaching several trophy elk and mule deer. The suspect was a known felon and drug dealer with ties to the cartel. After doing surveillance on him and his family for months, we worked with the FBI, US Marshals, and local law enforcement to bring him behind bars. When we searched his motor home he hunted from there were 49 guns, many of them stolen. There were guns in every corner of the motor home, including the shower and bathroom, under chairs and couches. I think back on this and wonder what would've happened if I would've approached him out in the middle of nowhere by myself when he was high on meth and heroin.
Are you always dealing with dangerous people like this?
Most of the time, the people I encounter are very polite and willing to talk my ear off. I love talking to people and listening to their experiences. I listen to their concerns and ideas.
The Uintah Basin, where I work and live, is filled with a variety of people. It seems the west is still wild out here. People come here to work in the oil and gas fields as well as farm and recreate. All the towns are pretty small and much of the land is Ute Indian Reservation.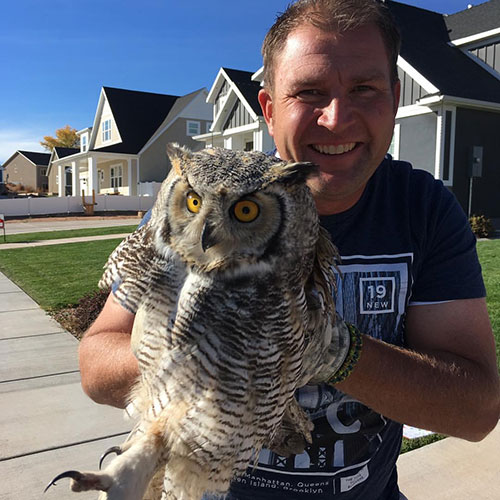 What is your favorite part about the job? … And the worst part about the job?
The best aspect of my job is all the experiences I have and the people I have them with. I work with the best bunch of people I can think of. Everyone is willing to step up and help with whatever is needed to be done. Though the job is serious in nature there are some good pranks and great senses of humor that exist in the job. * Laughing *
The worst part of my job is trying to make everyone happy. There is a fine balance in giving the public what they want and trying to maintain healthy animal populations and habitat. This problem will never go away and cannot be solved. It can only be managed. I try my best to look at every situation from the eyes of the person who has interest in it.
How big of a problem do poachers pose to game wardens?
Poachers pose problems to the public. They are stealing the resources from them and the public expect game wardens to catch them. I do my best to do just that.
I have never been busier than the fall and winter of 2016 and spring of 2017. Every day was a nonstop investigation into someone poaching. Much of this can be traced to the downturn of the oil and gas industry here in the Uintah Basin. Historically, crime has increased upwards of 300-500 percent during these downturns.
This kind of time and effort can take a toll on family life. Luckily my wife is the best person I know of and supports me during these hard times.
What are the most serious issues facing game wardens today? Are there any feasible solutions?
I have only been a game warden for a little over three years now. The elephant in the room is game wardens' salaries. I feel I have the best job in the world and I signed up knowing I was not going to make very much money so I really can't complain. After serving the public now for three-plus years I realize the amount of work we do, the education required, and the dangerous job it is, we should be getting paid more. Law enforcement in general should be getting paid more and retirement should actually let you retire. Most game wardens I know, after retiring have gone on to other jobs to pay bills. That's my two cents about that.
Another issue is personnel. In the state of Utah there might be one game warden per county or two counties. That's a lot of land to cover. It can be exhausting keeping poachers guessing where I'm going to be patrolling. Some of the harder criminals put time and effort to learn game warden patterns. I suggest no patterns of work.
The key to both of these issues is money. It takes money for raises, to retire, and to hire more personnel. Most of our paychecks come from taxes placed on the sale of hunting and fishing licenses as well as guns and ammo.
One solution is keeping people interested in the outdoors, including hunting and fishing. In the state of Utah, we are really putting an effort in recruiting and retaining outdoorsman with an emphasis on youth. This is the key to our future in my opinion. It is imperative to get our youth involved in the outdoors. Not only is it healthy for the soul but it puts dollars towards efforts to keeping opportunities for all to enjoy.
What is your most memorable on-the-job experience?
This is a hard one. I have had so many it is hard to pick. I would have to say one of the top experiences I got to have was climbing into a bear den with my wife and kids. We made sure momma bear was a sleep and then we got to hold her three cubs as we did some tests.
My kids got to go to school the next day and tell their peers that they climbed into a BEAR DEN WITH BEARS!!!! How cool is that?! * Laughing *
If you could change anything about your job, what would it be?
I love my job. I love being busy and protecting Utah's wildlife. Honestly, if I could change one thing it would be the pay. My only wish is that it paid more. Many game wardens have one or more part time jobs just to make the bills. Having said that, the DWR director's office has really gone to bat for us the last few years. I have to give them credit because we have really seen a great difference.
I think if they continue each year like the last three there will be more game wardens focusing on one job rather than two or three jobs. Besides that, I love everything about my job.
What aspect of your job gives you the most pride?
Every day I am grateful to be a game warden. I get the most pride by doing my best each day. As long as I know the public can count on me to respond to a call no matter what hour of the day or night, I will be satisfied. It truly gives me joy to be able to protect Utah's wildlife.
I treat each case as an honor to be able to gather the facts and let the facts tell the story of what transpired. I am thankful for county prosecutors who respect what I do and prosecute to the best they can.
What is the greatest contribution that game wardens give to the world?
Wildlife is a valuable resource to the world. Whether a person hunts, fishes, takes pictures, or runs a business in the outdoors, wildlife holds a huge value.
Wildlife is also crucial to healthy natural environments. Imagine a world where you could not do these things. Imagine no hunting, no fishing, and no animals to take pictures of. The most important contribution a game warden gives to the world is the opportunity to enjoy these resources and to maintain fair opportunities to all those who respect the laws.
What advice would you give to people looking to break into this career?
Start now!!! Get a hold of the Department of Natural Resources (DNR) and find game wardens in the area to go on ride-a-longs with. Every game warden is different and will treat similar situations differently. In Utah, a bachelor's degree in a wildlife related field or criminal justice field is required. I became a game warden when I was 36 years old. I wish I would have started a lot sooner.
Try to hire on as a seasonal with the DNR. It is not required to know your potential co-workers but it can really be a benefit. The more experience you can get the better off you'll be.
Learn how to communicate with others. I served a two-year church mission with the LDS church. All I did for two years is talk to strangers. I know this helped me be a better communicator. Communication is extremely important when trying to get a point across or deescalating a potentially dangerous situation.