<!- mfunc search_box_nav ->
<!- /mfunc search_box_nav ->
<!- mfunc feat_school ->
Featured Programs:
Sponsored School(s)
Sponsored School(s)
All school search, finder, or match results, as well as colleges and universities displayed as "Featured School(s)" or "Sponsored Content" are advertisers that compensate us for placement on this site. The resources, editorial content, and school evaluations published on this site are developed independent of the schools that advertise here.
<!- /mfunc feat_school ->
Game warden jobs in the state of Illinois are highly sought after. Open positions are limited, so candidates are expected to be both highly trained and deeply passionate about the line of work they are pursuing.  Game warden candidates are encouraged to have some background in ecology, and additional scientific and field training is always an asset.
Candidates are also advised to develop a passion for communication and public education.  A warden's job responsibilities could include creating displays and presentations that help people understand environmental issues and conservation efforts, collecting census data on animal and bird populations, and supporting conservation efforts throughout the jurisdiction by a variety of means. Game wardens are responsible for managing all of the fishing and wildlife incidents that occur throughout their designated area.
Given the highly competitive nature of the current job market, candidates are carefully vetted through the hiring process in order to find the most suitable candidate, so it is important for potential applicants to understand the selection process, qualifications, and additional requirements in order to be as prepared as possible.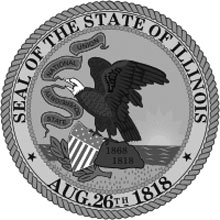 Illinois Game Warden Eligibility Requirements
The Illinois Office of Law Enforcement supports state Department of Natural Resource programs designed to protect the state's natural resources. Thanks to Conservation Police Officers, the state is able to regulate and enforce hunting and angling regulations, as well as firearm, boating, and trapping safety. While conservation of natural resources is their primary duty, Illinois Conservation Police Officers have full police authority that is in effect state-wide. These individuals train to the same high standards that state police officers do. In addition to the above mentioned responsibilities, Conservation Police Officers lead advocacy and classes, and often support other agencies during emergency situations.
Qualified applicants that enjoy the wilderness regions of the state and who are also interested in law enforcement are encouraged to pursue Conservation Police Officer application process. However, due to the rigorous requirements of the role, applicants should be fully prepared for the process. Listed below are the minimum qualifications to apply for the role of Conservation Police Officer in the state of Illinois. A full listing of the requirements can be found on Illinois' Department of Natural Resources website.
Illinois Conservation Police Officer Basic Job Qualifications
Age: 21 years of age or older is required at the time of the start of training
Citizenship: Proof of U.S. Citizenship or naturalization documents are required, as well as proof of Illinois residency
License: A valid Illinois-issued driver's license is required.
Military Service: If discharged from the U.S. military, "Under Honorable Conditions" is required
Work Eligibility: New employees must present original documents that establish identity and eligibility for U.S. employment opportunities as per federal law – applicants must be eligible to accept employment before the process continues.
Background and Legal History: Applicants must pass an intensive fingerprint Background check in order to continue the application process to ensure that candidates have:
Not been convicted of domestic violence
Never illegally manufactured, transported, purchased, distributed, used or sold a controlled substance
Are not on court-ordered probation
Never convicted of a felony offense
Academic Credentials:
Have completed a high school diploma or equivalent.
Have an Associate's degree and 3 years' experience as a police officer,

Or have a 4-year Bachelor's degree
Or have been awarded with a medal in addition to military 'Honorable Discharge'
Or finally, be an active member of the Illinois National Guard or a reservist in the US Armed Forces
Additional Requirements:
State of Illinois CMS (Central Management Services) Employment Application
POWER Scores for Physical readiness
Conservation Police Officer Trainee Program
Contingent on the success of Background, physical and educational factors, a candidate may be offered a trainee role for a minimum of one year. Training consists of:

Basic Law Enforcement Course: 480 hours of coursework which covers basic peace officer topics such as human behavior, patrol techniques, and police proficiency skills
Basic Conservation Police: 480 hours of training topics that include wildlife enforcement, watercraft safety, state park and site regulations, and endangered species protection
Field Training: CPOTs receive five months of on-the-job training by working with veteran field officers in a rotation of various field locations.

Upon successfully passing all components of the CPOT Trainee year and subsequent 4 months of probation, a candidate is considered certified as a Conservation Police Officer.
Interview: Candidates will have an oral interview to evaluate character, as well as relevant experience and
Medical evaluation: The candidate will be in 'good' medical health according to POST requirements
Hearing: The applicant must be able to hear without significant loss.
Vision: The applicant must have good vision in both eyes and may use corrective lenses.
The Peace Officer Wellness Evaluation Report (POWER)
Physical Readiness: The applicant must successfully demonstrate the following skills through the POWER (Peace Officer Wellness Evaluation Report):
Aerobic capacity through a 1.5-mile run
Strength using bench press weights
Muscular endurance as determined by the quantity of sit-ups completed in one minute
Flexibility measured by a sit and reach test
Upon passing POWER, a swim criteria must be evaluated:
Swimming 300 yards using any stroke recognized by the American Red Cross
Treading water for 10 minutes
Retrieving a 5-lb weight from at least 10 feet of water
Psychological Condition: The applicant must be in suitable psychological and emotional health as evaluated
Knowledge, Skills, Abilities, and Desired Qualifications
Demonstrate effective use of English including grammar, spelling, punctuation, vocabulary, and composition; reading and comprehension for oral and verbal communication
Demonstrate effective use of mathematics including advanced arithmetic, basic accounting, estimating, and data collection
Demonstrate any receptive and expressive bilingual skills.
Knowledge of current principles and practices of habitat resources, law enforcement and wildlife management
Computer spreadsheet, word processing, email, GIS, and database knowledge in a networked environment is required; the state uses proprietary programs for training and information delivery
Establish and maintain effective interpersonal relationships within and outside of the department
Remain committed to professional development
Effectively operate and negotiate a 4-wheel drive vehicle on rugged terrain
Effectively utilize boats and ATVs for patrol and pursuit
Effectively use firearms and train others on firearm usage and safety
Professional development or college courses in psychology, law enforcement, sociology, or natural resources management
Salaries for Conservation Police Officers with the Illinois Department of Natural Resources
The Illinois Department of Employment Security reported that conservation police officers in the state earn significantly higher wages than their colleagues in the country overall. For example, the median salary among officers in Illinois was $91,542 as of 2015 - 76% higher than the national median for game wardens.
Experienced game wardens in Illinois earned an even higher average salary - $101,214. Even the entry-level salary for a game warden in the state exceeded the national median among game wardens, with those just starting out earning an average of $62,371.
In Illinois, game wardens employed with the state's Department of Natural Resources are known as conservation police officers. The Illinois Department of Central Management Services breaks out the salaries for these commissioned law enforcement officers, which includes significant increases for longevity.
Conservation police officers work as trainees for a two-month period earning within the range of $2,207 and $4,140 a month depending on experience. The monthly salaries for Level I and II conservation police officers as of 2017 are shown below:
Conservation Police Officer I: $3,136 - $6,412

Longevity Year – 9: $6,762
Longevity Year – 10: $7,158
Longevity Year – 12: $7,335
Longevity Year – 15: $7,443
Longevity Year – 21: $7,468
Conservation Police Officer II: $3,174 - $6,452

Longevity Year – 9: $6,846
Longevity Year – 10: $7,243
Longevity Year – 12: $7,422
Longevity Year – 15: $7,877
Longevity Year – 17: $8,243
Longevity Year – 20: $8,634
Longevity Year – 21: $8,742
Longevity Year – 22: $9,146
Longevity Year – 25: $9,569
Illinois Department of Natural Resources
One Natural Resources Way
Springfield, IL 62702
Phone: (217) 782-6431
http://dnr.state.il.us/law3/career.htm
School Programs
Program
Programs Offered

Augustana College

639 38th St

,

Rock Island

,

IL

61201-2296

Aurora University

347 S Gladstone Ave

,

Aurora

,

IL

60506-4892

Biology
Law Enforcement Administration
Criminal Justice

Benedictine University

5700 College Rd

,

Lisle

,

IL

60532-0900

Blackburn College

700 College Ave

,

Carlinville

,

IL

62626

Biology
Environmental Biology
Criminal Justice

Bradley University

1501 W Bradley Ave

,

Peoria

,

IL

61625-0001

Biology
Law Enforcement Administration

Chicago State University

9501 S. King Drive

,

Chicago

,

IL

60628-1598

City Colleges of Chicago-Harold Washington College

30 E Lake St

,

Chicago

,

IL

60601-2449

City Colleges of Chicago-Harry S Truman College

1145 W Wilson Ave.

,

Chicago

,

IL

60640-6063

City Colleges of Chicago-Kennedy-King College

6301 S Halsted St

,

Chicago

,

IL

60621-2709

City Colleges of Chicago-Olive-Harvey College

10001 S Woodlawn Ave

,

Chicago

,

IL

60628-1696

City Colleges of Chicago-Richard J Daley College

7500 S Pulaski Rd

,

Chicago

,

IL

60652-1299

City Colleges of Chicago-Wilbur Wright College

4300 N Narragansett

,

Chicago

,

IL

60634-1500

College of Lake County

19351 W Washington St.

,

Grayslake

,

IL

60030-1198

Natural Resources Management and Policy

Concordia University-Chicago

7400 Augusta

,

River Forest

,

IL

60305-1499

DePaul University

1 E Jackson Blvd

,

Chicago

,

IL

60604

Dominican University

7900 W Division Street

,

River Forest

,

IL

60305

East-West University

816 S Michigan Ave

,

Chicago

,

IL

60605

Phone:

(312) 939-0111 x1803

Eastern Illinois University

600 Lincoln Avenue

,

Charleston

,

IL

61920

Biology
Botany, Plant Biology
Zoology and Animal Biology
Ecology

Elmhurst College

190 Prospect Ave

,

Elmhurst

,

IL

60126-3096

Natural Resources Management and Policy
Biology
Law Enforcement Administration

Eureka College

300 E. College Avenue

,

Eureka

,

IL

61530

Governors State University

1 University Pky

,

University Park

,

IL

60484

Biology
Environmental Biology
Criminal Justice

Greenville College

315 E. College Ave

,

Greenville

,

IL

62246

Biology
Environmental Biology
Law Enforcement Administration

Heartland Community College

1500 West Raab Road

,

Normal

,

IL

61761-9446

Illinois College

1101 W College Ave

,

Jacksonville

,

IL

62650-2299

Biology
Environmental Biology

Illinois Institute of Technology

3300 S Federal St

,

Chicago

,

IL

60616

Illinois State University

North and School Streets

,

Normal

,

IL

61790-1000

Illinois Wesleyan University

1312 N Park St

,

Bloomington

,

IL

61702-2900

Joliet Junior College

1215 Houbolt Rd

,

Joliet

,

IL

60431-8938

Judson University

1151 N State St

,

Elgin

,

IL

60123-1498

Kaskaskia College

27210 College Rd

,

Centralia

,

IL

62801

Law Enforcement Administration

Kishwaukee College

21193 Malta Rd

,

Malta

,

IL

60150-9699

Knox College

2 E South St

,

Galesburg

,

IL

61401-9999

Lake Forest College

555 N Sheridan Road

,

Lake Forest

,

IL

60045-2399

Lewis and Clark Community College

5800 Godfrey Rd

,

Godfrey

,

IL

62035

Lewis University

One University Parkway

,

Romeoville

,

IL

60446-2200

Biology
Criminal Justice
Security and Protective Services

Lincoln College

300 Keokuk St

,

Lincoln

,

IL

62656

Law Enforcement Administration
Criminal Justice

Lincoln Land Community College

5250 Shepherd Rd

,

Springfield

,

IL

62794-9256

Loyola University Chicago

1032 W. Sheridan Rd

,

Chicago

,

IL

60660

Biology
Microbiology
Criminal Justice

MacCormac College

29 E. Madison

,

Chicago

,

IL

60602-4405

Phone:

(312) 922-1884 x203

Law Enforcement Administration

MacMurray College

447 East College Ave

,

Jacksonville

,

IL

62650-2590

Biology
Law Enforcement Administration

McKendree University

701 College Rd

,

Lebanon

,

IL

62254-1291

Millikin University

1184 W Main St

,

Decatur

,

IL

62522-2084

Biology
Law Enforcement Administration

Monmouth College

700 E Broadway

,

Monmouth

,

IL

61462-1998

Morthland College

202 East Oak Street

,

West Frankfort

,

IL

62896-2742

National Louis University

122 S Michigan Ave

,

Chicago

,

IL

60603

North Central College

30 N Brainard St

,

Naperville

,

IL

60540

North Park University

3225 W Foster Ave

,

Chicago

,

IL

60625-4895

Northeastern Illinois University

5500 N Saint Louis Ave

,

Chicago

,

IL

60625-4699

Northern Illinois University

1425 W. Lincoln Hwy.

,

Dekalb

,

IL

60115-2828

Northwestern University

633 Clark St

,

Evanston

,

IL

60208

Olivet Nazarene University

One University Avenue

,

Bourbonnais

,

IL

60914-2271

Biology
Zoology and Animal Biology
Ecology
Criminal Justice

Olney Central College

305 N West Street

,

Olney

,

IL

62450

Law Enforcement Administration

Principia College

1 Maybeck Place

,

Elsah

,

IL

62028-9799

Quincy University

1800 College Ave

,

Quincy

,

IL

62301-2699

Rockford University

5050 E State St

,

Rockford

,

IL

61108-2311

Roosevelt University

430 S Michigan Ave

,

Chicago

,

IL

60605-1394

Rosalind Franklin University of Medicine and Science

3333 Green Bay Road

,

North Chicago

,

IL

60064-3095

Saint Xavier University

3700 W 103rd St

,

Chicago

,

IL

60655

Biology
Botany, Plant Biology
Criminal Justice

Shawnee Community College

8364 Shawnee College Rd

,

Ullin

,

IL

62992

Wildlife and Wildlands Science and Management

South Suburban College

15800 South State Street

,

South Holland

,

IL

60473-1200

Southeastern Illinois College

3575 College Road

,

Harrisburg

,

IL

62946

Wildlife and Wildlands Science and Management

Southern Illinois University-Carbondale

Lincoln Drive

,

Carbondale

,

IL

62901-4512

Natural Resources Management and Policy
Forestry
Biology
Botany, Plant Biology
Microbiology
Zoology and Animal Biology
Law Enforcement Administration

Southern Illinois University-Edwardsville

Il State Rte 157

,

Edwardsville

,

IL

62026-1259

Southwestern Illinois College

2500 Carlyle Ave

,

Belleville

,

IL

62221-5899

Law Enforcement Administration

Spoon River College

23235 North County 22

,

Canton

,

IL

61520-8622

Natural Resources Management and Policy

Trinity Christian College

6601 W College Dr

,

Palos Heights

,

IL

60463-0929

Biology
Law Enforcement Administration

Trinity International University-Illinois

2065 Half Day Rd

,

Deerfield

,

IL

60015-1283

Triton College

2000 5th Ave

,

River Grove

,

IL

60171-1995

Phone:

(708) 456-0300 x3130

Law Enforcement Administration

University of Chicago

5801 S Ellis Ave

,

Chicago

,

IL

60637

Biology
Microbiology
Ecology

University of Illinois at Chicago

601 S Morgan

,

Chicago

,

IL

60607

University of Illinois at Springfield

One University Plaza

,

Springfield

,

IL

62703-5407

University of Illinois at Urbana-Champaign

601 E John Street

,

Champaign

,

IL

61820-5711

Biology
Botany, Plant Biology
Microbiology

University of St Francis

500 N Wilcox St

,

Joliet

,

IL

60435-6188

Biology
Law Enforcement Administration

Western Illinois University

1 University Circle

,

Macomb

,

IL

61455

Biology
Zoology and Animal Biology
Law Enforcement Administration
Security and Protective Services

Wheaton College

501 College Ave

,

Wheaton

,

IL

60187-5593
Featured Programs: Sponsored School(s) Sponsored School(s) All school search, finder, or match results, as well as colleges and universities displayed…