<!- mfunc search_box_nav ->
<!- /mfunc search_box_nav ->
<!- mfunc feat_school ->
Featured Programs:
Sponsored School(s)
Sponsored School(s)
All school search, finder, or match results, as well as colleges and universities displayed as "Featured School(s)" or "Sponsored Content" are advertisers that compensate us for placement on this site. The resources, editorial content, and school evaluations published on this site are developed independent of the schools that advertise here.
<!- /mfunc feat_school ->
Eager game warden candidates in Iowa compete for the few job openings that become available each year. In order to ensure that they are the best match for the role, applicants should be passionate about fishing and wildlife advocacy as well as possess the ability educate the public, hunters, and fishermen on ways to help preserve our natural resources.  A warden's responsibilities might include issuing fishing and hunting licenses, making arrests for infractions, and data collection related to specie populations.  The jurisdiction of each game warden can vary, but often includes monitoring the natural resources of large protected wildlife regions within the state.
Competition for these jobs is fierce, with some applicants waiting for months in a pool of potential candidates before receiving an offer.  This makes it critical to understand what qualifications the hiring agencies are looking for.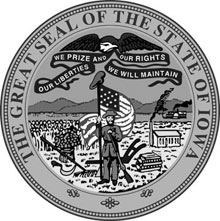 Iowa Game Warden Eligibility Requirements
With both Iowa's eastern and western borders formed entirely by rivers, the state is central to the American Heartland. As such, those individuals that enjoy working outdoors and who also have an interest in law enforcement would be ideal candidates for conservation officer jobs in the state.
Sometimes called game wardens, Iowa's conservation officers are fully certified peace officers responsible for environmental protection of fisheries, wildlife, parks and forested lands. As peace officers, conservation officers have the authority to enforce any Iowa law at any time.
Deputized by the U.S. Fish and Wildlife Service, Iowa's conservation officers can cross state lines in pursuit of federal violators. For those who are motivated by justice, this career path has exciting opportunities for growth and advancement.
Conservation officers use education, presence, and enforcement action in order to manage the activities of hunters and fishers among their many other job responsibilities. This means the job is a challenging one and only the finest candidates are selected for hire. Listed below are the minimum qualifications to apply for the role of Conservation Officer in Iowa. Further information, videos and job postings can be found on Iowa's Department of Natural Resources website:
Basic Qualifications for Jobs with the Iowa Department of Natural Resources
Age: 18 years of age or older is required at the time of appointment
Citizenship: Proof of U.S. citizenship or naturalization documents are required, as is proof of state residency
License: A valid Iowa-issued driver's license is required.
Military Service: A discharge "Under Honorable Conditions" is required of any former member of the military
Work Eligibility: New employees must present original documents that establish identity and eligibility for U.S. employment opportunities as per federal law – applicants must be eligible to accept employment before the process continues
Background and Legal History: Applicants must pass an intensive fingerprint background check in order to continue the application process to ensure that candidates have:
No addictions to drugs or alcohol
Good moral character
Not currently been placed on court-ordered probation
Not been convicted of a felony or a crime involving moral turpitude
Never convicted of a felony offense
No record of domestic violence, misdemeanor or otherwise
Not been convicted of perjury or false statement
Never been discharged or resigned under threat of discharge from any law enforcement position
Academic Credentials: Completion of high school or GED is required
Additional Requirements:
Transcripts
Results of Initial Testing including Cognitive Survey, Writing ability assessment, Vocational interest inventory exam, Personality Profile Application Process and Screening
Interview: Candidates will have a panel interview with enforcement officers designed to evaluate experience and knowledge in the areas of hunting, fishing, boating and related outdoor activities. Officers will evaluate appearance, demeanor, verbal skills and ability to make ethical judgment at this time and throughout the hiring process
Polygraph Test: A series of questions detailing past experience with substance abuse and criminal activity.
Medical Evaluation and Physical Readiness
Medical evaluation: The candidate will be evaluated by a medical professional to ensure that he or she is in satisfactory health.
Hearing: The applicant must be able to demonstrate good hearing with or without hearing aids
Vision: The applicant must have better than 20/100 uncorrected vision with both eyes, corrected to 20/20, and have color vision consistent with the demands of the job.
Physical Readiness: The applicant must successfully complete a physical readiness test showing that he or she is able to complete performance as shown on the state's minimal physical fitness performance requirements chart, consisting of:
Sit and Reach
Sit-ups
Push-ups
1.5 mile run
Psychological Condition: The applicant must be in suitable psychological and emotional health according to medical criteria
Knowledge, Skills, Abilities, and Desired Qualifications
Demonstrate effective use of English including both written and oral formats.
Demonstrate effective use of mathematics including advanced arithmetic, basic accounting, estimating, and data collection
Demonstrated bilingualism is an asset.
Computer spreadsheet, word processing, email, GIS, and database knowledge in a networked environment is required; the state uses proprietary programs for training and information delivery
Establish and maintain effective interpersonal relationships within and outside of the department
Effectively utilize boats, snowmobiles, and ATVs for patrol and pursuit
Effectively use firearms and train others on firearm usage and safety
Professional development criminal justice, biology, fish and wildlife management
A history of volunteer or paid participation in outdoor recreation
Basic knowledge of the principles of fish and game management;
Basic knowledge of the principles of nature conservations;
High moral character, demonstrating integrity and honesty;
Excellent communication skills, including the ability to deal with members of the public in a courteous manner
Ability to work without supervision
Salaries for Conservation Officers with the Iowa Department of Natural Resources
Iowa Workforce Development reported that the median salary among conservation officers was $62,303 as of 2016. This salary exceeds the national average for game wardens by more than 20%. Entry-level game wardens earned $48,975 on average, while those in the top 10% averaged $71,193.
Game wardens who work for the Iowa Department of Natural Resources are known as conservation officers and are official peace officers for the state. The state's Department of Administrative Services provides the minimum and maximum salaries for conservation officers in Iowa as of fiscal year 2017:
Annual: $48,006 - $72,155
Hourly: $23.08 - $36.11
Iowa Department of Natural Resources
502 East 9th Street, 4th Floor
Des Moines, IA 50319-0034
Phone: (515) 725-8200
http://www.iowadnr.gov/About-DNR/DNR-Staff-Offices/Conservation-Law-Enforcement
School Programs
Program
Programs Offered

Briar Cliff University

3303 Rebecca Street

,

Sioux City

,

IA

51104

Buena Vista University

610 W 4th St

,

Storm Lake

,

IA

50588

Central College

812 University

,

Pella

,

IA

50219

Clarke University

1550 Clarke Dr

,

Dubuque

,

IA

52001-3198

Coe College

1220 First Ave NE

,

Cedar Rapids

,

IA

52402-5092

Cornell College

600 First St. SW

,

Mount Vernon

,

IA

52314-1098

Dordt College

498 4th Ave NE

,

Sioux Center

,

IA

51250-1697

Natural Resources Management and Policy
Biology
Criminal Justice

Drake University

2507 University Avenue

,

Des Moines

,

IA

50311-4505

Ellsworth Community College

1100 College Ave

,

Iowa Falls

,

IA

50126

Natural Resources, Conservation
Fishing and Fisheries Sciences and Management

Graceland University-Lamoni

1 University Place

,

Lamoni

,

IA

50140

Grand View University

1200 Grandview Ave

,

Des Moines

,

IA

50316

Grinnell College

1121 Park Street

,

Grinnell

,

IA

50112-1690

Hawkeye Community College

1501 E Orange Rd

,

Waterloo

,

IA

50701

Natural Resources Management and Policy

Iowa State University

3410 Beardshear Hall

,

Ames

,

IA

50011-2030

Fishing and Fisheries Sciences and Management
Forestry
Forest Sciences and Biology
Wildlife and Wildlands Science and Management
Biology
Microbiology
Ecology

Iowa Wesleyan College

601 N Main Street

,

Mount Pleasant

,

IA

52641

Biology
Law Enforcement Administration

Kirkwood Community College

6301 Kirkwood Blvd SW

,

Cedar Rapids

,

IA

52406-2068

Natural Resources, Conservation

Loras College

1450 Alta Vista

,

Dubuque

,

IA

52004-0178

Luther College

700 College Drive

,

Decorah

,

IA

52101-1045

Marshalltown Community College

3700 S Center St

,

Marshalltown

,

IA

50158

Law Enforcement Administration

Morningside College

1501 Morningside Ave

,

Sioux City

,

IA

51106-1751

Mount Mercy University

1330 Elmhurst Dr NE

,

Cedar Rapids

,

IA

52402-4797

Natural Resources, Conservation
Natural Resources Law Enforcement and Protective Services
Biology
Law Enforcement Administration

Northwest Iowa Community College

603 W Park St

,

Sheldon

,

IA

51201

Natural Resources, Conservation

Northwestern College

101 Seventh St SW

,

Orange City

,

IA

51041

Biology
Environmental Biology

Saint Ambrose University

518 W Locust St

,

Davenport

,

IA

52803-2898

Simpson College

701 North C St

,

Indianola

,

IA

50125

Phone:

(515) 961-6251 x1517

University of Dubuque

2000 University Ave

,

Dubuque

,

IA

52001

University of Iowa

101 Jessup Hall

,

Iowa City

,

IA

52242-1316

Biology
Botany, Plant Biology
Microbiology

University of Northern Iowa

1227 W 27th St

,

Cedar Falls

,

IA

50614-0005

Biology
Microbiology
Ecology

Upper Iowa University

605 Washington St

,

Fayette

,

IA

52142-1857

Natural Resources, Conservation
Biology
Law Enforcement Administration

Wartburg College

100 Wartburg Blvd.

,

Waverly

,

IA

50677-0903

William Penn University

201 Trueblood Ave

,

Oskaloosa

,

IA

52577
Featured Programs: Sponsored School(s) Sponsored School(s) All school search, finder, or match results, as well as colleges and universities displayed…