<!- mfunc search_box_nav ->
<!- /mfunc search_box_nav ->
<!- mfunc feat_school ->
Featured Programs:
Sponsored School(s)
Sponsored School(s)
All school search, finder, or match results, as well as colleges and universities displayed as "Featured School(s)" or "Sponsored Content" are advertisers that compensate us for placement on this site. The resources, editorial content, and school evaluations published on this site are developed independent of the schools that advertise here.
<!- /mfunc feat_school ->
There is a need for qualified applicants in Kansas to fill game warden positions; however, competition for these jobs is fierce.  The natural resource officer role is both physically and mentally challenging - officers who work at the state level may have a jurisdiction that matches the boundaries of their nearest protected wildlife area and wetlands, whereas federal employees may manage an even larger region of the state or national reserve.
A game warden's job duties are extremely diverse and could include everything from providing court testimony for criminal offenses, performing search and rescue missions for persons missing in the area, tracking population data for fish, birds, and wildlife, and educating the public about wildlife conservation efforts.  Game wardens love the outdoors and should have a passion for protecting our natural resources.
In the face of stiff competition for available jobs, candidates are advised that waiting times can be lengthy, and relocating to accept an open position is not unheard of.  Therefore it's important to understand the hiring process and qualifications.  Read on to learn more about becoming a game warden in Kansas.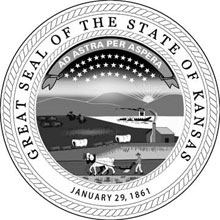 Kansas Game Warden Eligibility Requirements
With its unsullied plains and famous national parks, men and women who have career interests in both law enforcement and outdoor conservation have the right stuff to become of Kansas natural resource officer. Officers in Kansas are responsible for enforcing the state's fish, wildlife, boating, and natural resource laws and regulations. Staff members also inspect and license game breeders, and regulate controlled shooting areas for safety purposes.
The role of a natural resource officer is a challenging one, which means that all applicants should be prepared to demonstrate that they have the knowledge, skills and abilities to be considered job ready. In order to help candidates succeed, outlined here are the minimum qualifications for game wardens in the state of Kansas - as outlined on the Kansas Wildlife, Parks and Tourism website, eligibility criteria include:
Natural Resource Officer Basic Job Qualifications
Age: 21 years of age or older at the time of appointment
Citizenship: Proof of U.S. Citizenship or naturalization documents are required, as well as proof of residency in the state
License: A valid Kansas-issued driver's license is required.
Military Service: Kansans who are former military require an honorable discharge
Work Eligibility: New employees must present original documents that establish identity and eligibility for U.S. employment opportunities as per federal law – applicants must be eligible to accept employment before the process continues
Background and Legal History: Applicants must pass an intensive fingerprint background check in order to continue the application process to ensure that candidates have:
No addictions to drugs or alcohol
Good moral character
Not been currently placed on probation
Not been convicted of a felony or a crime involving moral turpitude
Not convicted of a crime of domestic violence, misdemeanor or otherwise
Not been convicted of perjury or false statement
Never been discharged or resigned under threat of discharge from any law enforcement position
Academic Credentials: Completion of high school or GED; Bachelor's degree in natural resources; additional experience may be substituted for education as determined relevant by the agency.
Additional Credentials
Certification as a law enforcement officer by the Kansas Law Enforcement Training Commission while an employee is on 'conditional' status
Additional Requirements:
Personal information registration form (to obtain a State of Kansas Applicant ID Number)
A letter of interest
A resume
College transcript
Kansas Department of Wildlife, Parks, and Tourism employment application
A Release of Information Authorization form to facilitate a background check
A Kansas Tax Clearance Certificate with declaration
Interview: Candidates will have a formal panel interview with senior officers and human resources personnel to evaluate experience, knowledge, and demeanor
Medical Evaluation and Psychological Screening
Medical evaluation: Candidates must be in good health for a physically active outdoor role in law enforcement.
Hearing: The applicant must be able to demonstrate good hearing with or without hearing aids
Vision: The applicant must have good corrected or uncorrected binocular vision, and have color vision consistent with the demands of the job.
Physical Readiness: The applicant must successfully complete a physical readiness test showing that they are able to complete performance as shown on the state's minimal physical fitness performance requirements chart, consisting of
Sit and Reach
Sit-ups
Push-ups
1.5 mile run
Psychological Condition: Candidates must have sound psychological and emotional health suitable for their potential job.
Knowledge, Skills, Abilities, and Desired Qualifications
Demonstrate effective use of English including grammar, spelling, punctuation, vocabulary, and composition; reading and comprehension for oral and verbal communication
Demonstrate effective use of mathematics including advanced arithmetic, basic accounting, estimating, and data collection
Demonstrate skills in additional languages.
Knowledge of current principles and practices of habitat resources, law enforcement and wildlife management
Computer spreadsheet, word processing, email, GIS, and database knowledge in a networked environment is required; the state uses proprietary programs for training and information delivery
Establish and maintain effective interpersonal relationships within and outside of the department
Remain committed to professional development
Effectively operate and negotiate a 4-wheel drive vehicle, snowmobile, or ATV on rugged terrain for pursuit and patrol
Effectively use firearms and train others on firearm usage and safety
Familiarity with state and federal laws and regulations related to wildlife and the environment
Excellent communication skills, including the ability to engage with members of the public in a courteous manner;
Ability to work without supervision
Salaries for Game Wardens with the Kansas Department of Wildlife, Parks & Tourism
The Kansas Department of Labor reported the annual salaries and hourly wages for game wardens working with the Kansas Department of Wildlife, Parks & Tourism as of 2015:
Annual:
Entry-level – $44,220
Mean - $45,450
Experienced - $46,075
Hourly:
Entry-level – $21.26
Mean - $21.85
Experienced - $22.15
Kansas Department of Wildlife, Park, and Tourism
512 SE 25th Ave.
Pratt, KS 67124
Phone: (620) 672-5911
http://ksoutdoors.com/Services/Law-Enforcement
School Programs
Program
Programs Offered

Allen County Community College

1801 N Cottonwood

,

Iola

,

KS

66749

Phone:

(620) 365-5116 x100

Biology
Law Enforcement Administration

Baker University

618 Eighth Street

,

Baldwin City

,

KS

66006-0065

Barton County Community College

245 NE 30th Road

,

Great Bend

,

KS

67530

Forestry
Biology
Wildlife Biology
Security and Protective Services

Benedictine College

1020 N 2nd St

,

Atchison

,

KS

66002-1499

Bethany College

335 E Swensson St

,

Lindsborg

,

KS

67456-1897

Phone:

(785) 227-3380 x8237

Bethel College-North Newton

300 E 27th St

,

North Newton

,

KS

67117-1716

Butler Community College

901 S Haverhill Rd

,

El Dorado

,

KS

67042-3280

Central Christian College of Kansas

1200 S Main

,

McPherson

,

KS

67460-5740

Phone:

(620) 241-0723 x331

Biology
Law Enforcement Administration

Cleveland University-Kansas City

10850 Lowell Avenue

,

Overland Park

,

KS

66210

Dodge City Community College

2501 N 14th Ave

,

Dodge City

,

KS

67801-2399

Emporia State University

1 Kellogg Circle

,

Emporia

,

KS

66801-5415

Flint Hills Technical College

3301 W 18th St

,

Emporia

,

KS

66801-5957

Phone:

(620) 343-4600 x1300

Security and Protective Services

Fort Hays State University

600 Park St

,

Hays

,

KS

67601-4099

Friends University

2100 W. University Ave.

,

Wichita

,

KS

67213

Biology
Wildlife Biology
Environmental Biology
Criminal Justice

Garden City Community College

801 Campus Dr

,

Garden City

,

KS

67846-6333

Phone:

(620) 276-7611 x571

Hutchinson Community College

1300 N Plum St

,

Hutchinson

,

KS

67501

Natural Resources Management and Policy
Biology
Zoology and Animal Biology
Security and Protective Services

Independence Community College

1057 West College Avenue

,

Independence

,

KS

67301-0708

Johnson County Community College

12345 College Blvd

,

Overland Park

,

KS

66210-1299

Law Enforcement Administration

Kansas State University

Anderson Hall

,

Manhattan

,

KS

66506

Natural Resources Management and Policy
Biology
Microbiology
Wildlife Biology

Kansas Wesleyan University

100 E. Claflin Ave.

,

Salina

,

KS

67401-6196

Phone:

(785) 827-5541 x1285

Biology
Law Enforcement Administration

McPherson College

1600 E Euclid

,

McPherson

,

KS

67460-1402

MidAmerica Nazarene University

2030 E College Way

,

Olathe

,

KS

66062-1899

Biology
Law Enforcement Administration

Newman University

3100 McCormick Ave

,

Wichita

,

KS

67213-2097

Ottawa University-Online

1001 South Cedar

,

Ottawa

,

KS

66067

Law Enforcement Administration

Ottawa University-Ottawa

1001 South Cedar

,

Ottawa

,

KS

66067-3399

Pittsburg State University

1701 S Broadway

,

Pittsburg

,

KS

66762

Seward County Community College and Area Technical School

1801 N. Kansas Ave.

,

Liberal

,

KS

67901

Southwestern College

100 College Street

,

Winfield

,

KS

67156-6224

Biology
Marine Biology and Biological Oceanography
Criminal Justice

Sterling College

125 W. Cooper

,

Sterling

,

KS

67579

Biology
Law Enforcement Administration

Tabor College

400 S Jefferson

,

Hillsboro

,

KS

67063-1799

Phone:

(620) 947-3121 x1056

Biology
Environmental Biology

University of Kansas

Strong Hall, 1450 Jayhawk Blvd, Room 230

,

Lawrence

,

KS

66045

University of Saint Mary

4100 S 4th St Trafficway

,

Leavenworth

,

KS

66048-5082

Washburn University

1700 SW College Avenue

,

Topeka

,

KS

66621-0001

Biology
Law Enforcement Administration

Wichita State University

1845 N. Fairmount

,

Wichita

,

KS

67260-0124

Natural Resources Management and Policy
Biology
Criminal Justice
Featured Programs: Sponsored School(s) Sponsored School(s) All school search, finder, or match results, as well as colleges and universities displayed…