<!- mfunc search_box_nav ->
<!- /mfunc search_box_nav ->
<!- mfunc feat_school ->
Featured Programs:
Sponsored School(s)
Sponsored School(s)
All school search, finder, or match results, as well as colleges and universities displayed as "Featured School(s)" or "Sponsored Content" are advertisers that compensate us for placement on this site. The resources, editorial content, and school evaluations published on this site are developed independent of the schools that advertise here.
<!- /mfunc feat_school ->
From conducting fish and game population and migration surveys to engaging in conservation and advocacy efforts to enforcing state and federal conservation laws, Maine's game wardens are the boots on the ground law enforcement officers that help to preserve the state's diverse and abundant natural resources.
Due to the limited availability of jobs with the Maine Department of Inland Fisheries and Wildlife, game warden hopefuls in the state also often apply for Federal Wildlife Officer jobs with the U.S. Fish and Wildlife Service to improve their prospects. The competitive nature of the selection and hiring process requires applicants to meet minimum qualifications and have either a degree or professional experience in a relevant field.
Read on to discover more important information on how to qualify for game warden jobs with the Maine Department of Inland Fisheries and Wildlife or the USFWS.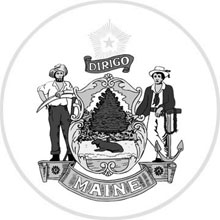 Maine Game Warden Eligibility Requirements
Maine's natural hallmarks are its rocky coastline, heavily forested terrain, and waterways teeming with fish. Individuals that enjoy Maine's wilderness regions and who have a passion for protecting it are encouraged to apply to become a Maine state Game Warden, a career path that has exciting opportunities for motivated individuals in one of America's great wilderness areas.
Game Wardens patrol these lands as a uniformed presence and conduct surveillance and enforcement action to manage the activities of hunters, anglers and others enjoying recreational activities in Maine's wilderness areas. At the same time, they serve as educators who work to improve the public's understanding of why conservation efforts are so important.
As certified peace officers, Maine's Game Wardens have a challenging set of responsibilities. This means every candidate needs to be prepared with foundational knowledge in both law enforcement and natural resource conservation.
Qualifying to Become a Game Warden
Listed here are the minimum qualifications needed to apply for the role of Game Warden in the state of Maine. A full listing of the requirements can be found on the state's Department of Inland Fisheries and Wildlife website.
Age: 20 or 21 years of age or older is required depending on college degree status. Citizenship: Proof of U.S. Citizenship or naturalization documents are required as well as proof of residency within Maine
License: A valid Maine-issued driver's license is required.
Military Service: Members of the military require a discharge detailing "Under Honorable Conditions"
Work Eligibility: New employees must present original documents that establish identity and eligibility for U.S. employment opportunities as per federal law – applicants must be eligible to accept employment before the process continues. Candidates will be subject to mandatory drug screening.
Background and Legal History: Applicants must pass an intensive fingerprint background check with polygraph in order to continue the application process. This is to ensure that candidates have:
No addictions to drugs or alcohol
Good moral character
Not currently on court-ordered probation
Never been convicted of a felony or a crime involving moral turpitude
Never been convicted of a felony offense
Never been convicted of a crime of domestic violence, misdemeanor or otherwise
Never been convicted of perjury or false statement
Never been discharged or resigned under threat of discharge from any law enforcement position
Academic Credentials: Completion of high school or GED is required; an associate's degree or completion of 54 semester hours from a college or university OR experience in sworn law enforcement that includes making arrest for criminal activity and conducting criminal investigations OR military service will substitute for the required education on a year for year basis OR two years' experience working in wildlife resources, agriculture, natural resources or recreation will substitute for each year of the required education.
Additional Requirements
Certification as a law enforcement officer by the Maine Law Enforcement Training Commission while an employee is on 'conditional' status
BLETP and Game Warden Academy Training
Basic Law Enforcement Training Program (BLETP)
An 18-week course consisting of basic police officer training in firearms, defensive tactics, search and seizure, and arrest
Advanced Warden Academy
A 12-week specialty-training course consisting of training on the following:
Firearms
Drug Identification
Hazardous Devices
ATV and 4-wheel Operations
Waterfowl Training
Self Defense
Wildlife Forensics
Water Survival
Emergency Vessel Operations
Boat Accident Investigations
Fish Identification
Marine Theft and Commercial Fishing Operations
Trapping
Reptile Identification
Media Relations
Land Navigation
Interview: Candidates will have a panel interview with enforcement officers designed to test practical knowledge of the outdoors, quick thinking, writing skills and computer knowledge.
Medical evaluation: Medical personnel will evaluate the candidate before they can continue with the hiring process.
Hearing: The applicant must be able to demonstrate excellent hearing with or without hearing aids
Vision: The applicant must have good corrected or uncorrected binocular vision, and have color vision consistent with the demands of the job.
Physical Readiness: The applicant must successfully complete a physical readiness test showing that he or she is able to complete performance as shown below:
Sit and Reach
Sit-ups
Push-ups
Running
Swimming
Treading water
Psychological Condition: The applicant must be in suitable psychological and emotional health according to medical criteria
Knowledge, Skills, Abilities, and Desired Qualifications
Demonstrate effective use of English including both written and oral formats.
Demonstrate effective use of mathematics including advanced arithmetic, basic accounting, estimating, and data collection
Demonstrate any Bilingualism is an asset.
Knowledge of current principles and practices of habitat resources, law enforcement and wildlife management
Computer spreadsheet, word processing, email, GIS, and database knowledge in a networked environment is required; the state uses proprietary programs for training and information delivery
Establish and maintain effective interpersonal relationships within and outside of the department
Remain committed to professional development
Effectively operate and negotiate a 4-wheel drive vehicle on rugged terrain
Effectively utilize boats, snowmobiles, and ATVs for patrol and pursuit
Demonstrate effective use of firearms.
Professional development or college courses are an asset
Game Warden Salaries Throughout Maine
The Maine Department of Labor reported that the average salary for game wardens working with state's Department of Inland Fisheries and Wildlife was $48,040 ($23.10 hourly) as of 2016. Experienced game wardens earned an average of $52,130 ($25.06 hourly), while entry-level game warden positions paid an average of $39,850 ($19.16 hourly).
Location significantly affects the pay of Maine's game wardens, particularly those just starting out. Entry-level wages varied by as much as $5.00 an hour:
Annual Salaries:
Portland:
Experienced - $51,610
Mean - $48,260
Entry-level - $41,570
Cumberland County:
Experienced - $52,414
Mean - $49,189
Entry-level - $42,737
Coastal Counties:
Experienced - $48,341
Mean - $43,010
Entry-level - $32,347
Hourly Wages:
Portland:
Experienced - $24.81
Mean - $23.20
Entry-level - $19.99
Cumberland County:
Experienced - $25.20
Mean - $23.65
Entry-level - $20.55
Coastal Counties:
Experienced - $23.24
Mean - $20.68
Entry-level - $15.55
Maine Department of Inland Fisheries and Wildlife
41 State House Station
Augusta, ME 04333-0041
Phone: (207) 287-8000
http://www.maine.gov/ifw/warden_service/career.html
School Programs
Program
Programs Offered

Bates College

2 Andrews Road

,

Lewiston

,

ME

04240

Bowdoin College

255 Maine Street

,

Brunswick

,

ME

04011

Central Maine Community College

1250 Turner Street

,

Auburn

,

ME

04210-6498

Law Enforcement Administration
Criminal Justice

Colby College

4000 Mayflower Hill Drive

,

Waterville

,

ME

04901-8840

Biology
Environmental Biology

Husson University

1 College Circle

,

Bangor

,

ME

04401-2999

Biology
Law Enforcement Administration

Saint Joseph's College of Maine

278 Whites Bridge Rd

,

Standish

,

ME

04084-5236

Biology
Marine Biology and Biological Oceanography
Criminal Justice

Southern Maine Community College

2 Fort Road

,

South Portland

,

ME

04106-1698

Marine Biology and Biological Oceanography
Criminal Justice

Thomas College

180 W River Rd

,

Waterville

,

ME

04901-5097

Unity College

90 Quaker Hill Road

,

Unity

,

ME

04988

Natural Resource Recreation and Tourism
Natural Resources Law Enforcement and Protective Services
Wildlife and Wildlands Science and Management
Wildlife Biology
Ecology
Marine Biology and Biological Oceanography
Environmental Biology

University of Maine

168 College Avenue

,

Orono

,

ME

04469

Natural Resources Management and Policy
Water, Wetlands and Marine Resources Management
Forestry
Forest Sciences and Biology
Forest Resources Management
Wildlife and Wildlands Science and Management
Biology
Botany, Plant Biology
Microbiology
Zoology and Animal Biology
Wildlife Biology
Marine Biology and Biological Oceanography

University of Maine at Augusta

46 University Dr

,

Augusta

,

ME

04330-9410

Biology
Law Enforcement Administration
Criminal Justice

University of Maine at Farmington

224 Main St.

,

Farmington

,

ME

04938-9978

University of Maine at Fort Kent

23 University Drive

,

Fort Kent

,

ME

04743-1292

Biology
Law Enforcement Administration

University of Maine at Machias

116 O'Brien Ave

,

Machias

,

ME

04654-1397

Biology
Marine Biology and Biological Oceanography

University of Maine at Presque Isle

181 Main St

,

Presque Isle

,

ME

04769-2888

University of New England

11 Hills Beach Rd

,

Biddeford

,

ME

04005-9599

Biology
Marine Biology and Biological Oceanography

University of Southern Maine

96 Falmouth St

,

Portland

,

ME

04103

York County Community College

112 College Drive

,

Wells

,

ME

04090
Featured Programs: Sponsored School(s) Sponsored School(s) All school search, finder, or match results, as well as colleges and universities displayed…