<!- mfunc search_box_nav ->
<!- /mfunc search_box_nav ->
<!- mfunc feat_school ->
Featured Programs:
Sponsored School(s)
Sponsored School(s)
All school search, finder, or match results, as well as colleges and universities displayed as "Featured School(s)" or "Sponsored Content" are advertisers that compensate us for placement on this site. The resources, editorial content, and school evaluations published on this site are developed independent of the schools that advertise here.
<!- /mfunc feat_school ->
In Nevada, the state's Department of Wildlife employs game wardens at the state level. Nevada is home to diverse big game species that draw hunters from around the world. In fact, hunting contributed more than $335 million to the state's economy in 2011 alone.
The popularity of hunting in Nevada provides some of the primary law enforcement duties of the state's game wardens. They monitor hunters to ensure that the big game being hunted is located in areas where hunting is legally permitted. In addition, Nevada's game wardens investigate poaching and other types of wildlife crimes.
The job of a game warden in Nevada is challenging. Experienced wardens may be responsible for monitoring as much as 10,000 square miles. In fact, game wardens may be the only law enforcement officials to patrol some rural areas.
Game wardens in Nevada also apply their knowledge of conservation by tracking the migration of birds and mammals. These professionals are skilled in collecting data on wildlife populations and natural habitats.
Given the demand for the limited number of game warden positions in Nevada, there is strong competition for these jobs. Applicants can enhance their chances of being hired by understanding the requirements and hiring process. Read more to learn about game warden jobs in the state of Nevada.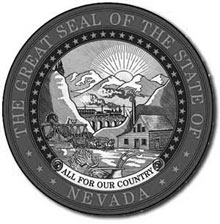 Nevada Game Warden Eligibility Requirements
Men and women who couple a strong sense of justice with an enjoyment of the outdoors are well suited to pursue a career as a Nevada Fish and Game warden. Such careers provide many opportunities to help the public.
In addition to their law enforcement duties, Nevada's game wardens provide information on fishing and hunting to the public. Part of this involves promoting and coordinating hunter education classes along with training the public on firearm and boating safety. These game wardens also plan media and radio addresses and speak publicly to advocate for Nevada's natural habitats.
Being responsible for so many facets of wildlife management makes it particularly critical for applicants to be prepared to showcase their skillsets. Shown below are the minimum qualifications required by the Nevada Department of Wildlife for its game wardens.
Nevada Department of Wildlife Basic Job Qualifications
The website of the Nevada Department of Wildlife provides additional information as well as job postings. Shown below are the minimum qualifications for these positions:
Age: 21 years of age or older at the time of academy entrance
Citizenship: Proof of U.S. citizenship or of permanent resident alien status who is eligible and has applied for citizenship; proof of residency within the state of Nevada is also required.
License: A valid Nevada-issued driver's license is required. Individuals must agree to participate in driver safety training through the state as opportunities arise.
Military Service: If formerly a member of the military, a discharge "Under Honorable Conditions" is required
Work Eligibility: New employees must present original documents that establish identity and eligibility for U.S. employment opportunities as per federal law – applicants must be eligible to accept employment before the process continues
Background and Legal History: Applicants must pass an intensive background investigation in order to continue the application process. Disqualifying elements include:
Convicted of a felony in Nevada or any other state;
Convicted of any offense in any state that would have been a felony if committed in Nevada;
Charged with a felony found to be mentally incompetent;
Addicted to narcotics
Convicted of any offense which precludes you from carrying a firearm under State or federal law
Failed urinalysis drug testing prior to employment
Academic Credentials: High school diploma or GED; a four year college degree in criminal justice, biology, or wildlife/natural resources management. Law enforcement experience can be an equivalent substitute for a degree.
Peace Officer Training Requirements
POST Training: A course certifying candidates as Peace Officers readies them to continue the Wildlife Officer Application process. Training includes:
Criminal, civil, and court proceedings
Environment specific training
Traffic and patrol practices
Firearms training
Trafficking enforcement
Additional specific training
Interview: Candidates will have a face-to-face panel interview during the later stages of the application process to evaluate knowledge and demeanor
Medical Condition: The applicant must be examined by a licensed physician and produce a signed affidavit indicating that they are able to physically perform the duties of a wildlife officer prior to employment. Candidates are also subject to drug screening and a polygraph test.
Hearing: The applicant must have hearing adequate to perform all the essential duties and functions of a Warden, including long distance, directional and voice conversation hearing.
Vision: Visual acuity corrected to 20/20 in each eye. Normal color vision and possessed of a standard peripheral field of view. Applicants who have undergone corrective eye surgery to meet minimum visual standards may be required to submit additional information.
Physical Readiness: The candidate must be in good physical condition and possess the ability to perform the listed job requirements.
Psychological Condition: Applicants will participate in a psychological assessment to determine their suitability for hire.
Knowledge, Skills, Abilities, and Desired Qualifications
Required to identify and safely use various firearms
Skilled in methods of patrol, including on foot, on horseback, by plane, boats, and in a variety of vehicles
Demonstrate an aptitude for collecting and preserving evidence, writing reports, and testifying in court.
Ability to promote and coordinate hunter education programs
Ability to collect and report information on the conditions of fish and wildlife and their habitat
Willingness to enthusiastically and professionally represent the agency at Nevada schools and meetings of special interest groups
Ability to make minor vehicle repairs
Ability to use professional level English grammar, spelling, punctuation, vocabulary, and composition; reading and comprehension
Ability to use foundational math skills including advanced arithmetic, payroll/accounts receivable, and estimation
Additional languages are an asset
Salaries for Game Wardens with the Nevada Department of Wildlife
Nevada's game wardens are among the best paid in the nation. The Nevada Department of Employment, Training and Rehabilitation reported that both the overall average salary and the average salary for those in the top 10% exceeded the national average in each category as of 2016.  That year, Nevada's game wardens earned an average of $60,100 ($28.90/hour), while the most experienced in the state (top 10%) earned an average of $79,290 ($28.12/hour).
The Nevada Employee Action and Timekeeping System showed the starting salary ranges for game wardens as reported for 2017. The wide ranges shown for each level reflects differences based on education, specialized role within the Nevada Department of Wildlife, and even location within the state.  Level 2 game wardens have prior law enforcement experience and consequently start out at a higher salary level:
Game Warden 1: $41,321 - $60,970
Game Warden 2: $46,938 - $69,718
Nevada Department of Wildlife
6980 Sierra Center Pkwy #120
Reno, NV 89511
Phone: (775) 688-1549
http://www.ndow.org/Our_Agency/Divisions/Law_Enforcement/
School Programs
Program
Programs Offered

College of Southern Nevada

6375 W. Charleston Blvd.

,

Las Vegas

,

NV

89146-1164

Great Basin College

1500 College Parkway

,

Elko

,

NV

89801

Natural Resources Management and Policy
Law Enforcement Administration

Nevada State College

1125 Nevada State Drive

,

Henderson

,

NV

89002

Biology
Law Enforcement Administration

Sierra Nevada College

999 Tahoe Blvd.

,

Incline Village

,

NV

89451

Truckee Meadows Community College

7000 Dandini Blvd

,

Reno

,

NV

89512-3999

Natural Resources Management and Policy
Biology
Law Enforcement Administration
Criminal Justice

University of Nevada-Las Vegas

4505 S Maryland Pky

,

Las Vegas

,

NV

89154

University of Nevada-Reno

North Virginia Street

,

Reno

,

NV

89557

Natural Resources, Conservation
Forestry
Forest Resources Management
Wildlife and Wildlands Science and Management
Biology

Western Nevada College

2201 West College Parkway

,

Carson City

,

NV

89703-7399

Biology
Law Enforcement Administration
Criminal Justice
Featured Programs: Sponsored School(s) Sponsored School(s) All school search, finder, or match results, as well as colleges and universities displayed…