<!- mfunc search_box_nav ->
<!- /mfunc search_box_nav ->
<!- mfunc feat_school ->
Featured Programs:
Sponsored School(s)
Sponsored School(s)
All school search, finder, or match results, as well as colleges and universities displayed as "Featured School(s)" or "Sponsored Content" are advertisers that compensate us for placement on this site. The resources, editorial content, and school evaluations published on this site are developed independent of the schools that advertise here.
<!- /mfunc feat_school ->
Oregon's game wardens are members of the Fish and Wildlife Division of the Oregon State Police. As accredited troopers, these individuals combine police presence and enforcement action with public education to manage the activities of hunters and anglers throughout the state.
Oregon has a tremendous of amount protected wilderness, from its costal region along the Pacific to everything from high desert to active volcanoes in the interior of the state. Many residents rise to the challenge of protecting these wildlands by joining the Fish and Wildlife Division of the Oregon State Police, though only a handful of open positions become available each year.
Applicants for these positions must meet a rigorous set of standards, and those who have a detailed knowledge of the requirements and selection process typically have the best shot.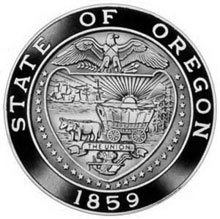 Oregon Game Warden Eligibility Requirements
The ideal candidate will have a strong sense of justice combined with a passion for wildlife advocacy and conservation.
The demanding set of responsibilities these law enforcement officers engage in every day – from conducting investigations and sting operations to remediating damage to fish and wildlife habitats – requires candidates with a diverse set of skills. Applicant must be ready to demonstrate their expertise in these areas.
Basic Job Qualifications with the Fish and Wildlife Division of the Oregon State Police
A full listing of the requirements along with job postings are displayed on the website of the Oregon State Police. Shown below are the minimum qualifications that OSP mandates to apply to the Fish and Wildlife Division:
Age: 21 years of age or older before beginning academy training
Citizenship: Proof of U.S. citizenship or of permanent resident alien status for those who are eligible and have applied for citizenship. Must be a resident of the state at the time of appointment.
License: A valid Oregon-issued driver's license is required. Individuals must agree to participate in driver training programs through the state as they arise.
Military Service: Applicants who are former members of the United States military require 'Under Honorable Conditions' discharge documentation.
Work Eligibility: New employees must present original documents that establish identity and eligibility for U.S. employment opportunities as per federal law – applicants must be eligible to accept employment before the hiring process continues
Background and Legal History: Applicants must pass a background check in order to continue the application process. Disqualifying elements include:
Poor record of character
Criminal convictions, such as misdemeanors involving moral turpitude or felonies
Illegal drug use in the past 10 years (three years for marijuana)
Convicted of a felony in Oregon or any other state;
Convicted of any offense in any state which would have been a felony if committed in Oregon;
Convicted of family or sexually violent offenses
Addicted or in danger of becoming addicted to narcotics
Convicted of any offense which precludes you from carrying a firearm under state or federal law
Failed drug testing prior to employment
Academic Credentials: High school diploma or its equivalent; an associate's or bachelor degree in law enforcement, criminal justice, resource management or biological sciences may be specially considered.
Additional Requirements: Timed written test which assesses a high school graduate level in mathematics, reading, and writing
Law Enforcement and Field Training
Pre-Academy Training is a 4-week commitment required of all newly hired state troopers and is provided by the Oregon State Police. New recruits will focus on what is termed First Responder training, which includes:
32 hours of medical training
26 hours of defensive tactics
40 hours of firearm training
16 hours of verbal communication
Oregon Public Safety Academy is 16 weeks long and is mandatory for all candidates. It is supported by the Oregon Department of Public Safety Standards and Training. Graduates are considered State Troopers. Training includes:
Law enforcement technology
Courtroom procedures
Report writing and communications
Emergency management chain of command
Illegal substance identification
Evidence collection and preservation
Game Warden Training
Upon successful graduation, specialty training with the Fish and Wildlife Division of the Oregon State Police occurs. Becoming a game warden officer, officially known as a Fish and Wildlife Division Trooper or Officer, merits specialized training in areas such as:
Boat operations
Environmental crime investigation
Federal wildlife laws
Meat handling and inspection
Restaurant and dealer inspection
Horse packing
Outdoor survival and navigation
Interview: Candidates will have an oral panel interview during the later stages of the application process; candidates who have been successful throughout the process will have a second and final oral interview before being offered a formal letter of hire
Medical Condition: The applicant must be examined by a licensed physician to ensure that they are in good health.
Hearing: The applicant must have hearing adequate to perform all the essential duties and functions of a Warden.
Vision: Visual acuity not less than 20/40 in each eye without correction and corrected to 20/20 in each eye. Candidates should have standard binocular peripheral vision with no conditions that would endanger themselves or others.
Physical Readiness: The applicant must be in sound physical condition and able to swim.
Applicants must successfully complete each component of the physical readiness testing which includes:
Physical fitness exam
Timed sit-ups
Push-ups
2 mile run
Psychological Condition: The applicant must be in robust psychological and emotional health to complete training and be eligible for hire
Knowledge, Skills, Abilities, and Desired Qualifications
Use and carry various firearms safely and effectively
Capable of patrolling on foot, on horseback, by plane, boats, and in a variety of vehicles
Demonstrate an aptitude for collecting and preserving evidence, writing reports, and testifying in court.
Ability to promote and coordinate hunter education programs
Ability to collect and report information on the conditions of fish and wildlife and their habitat
Willingness to enthusiastically and professionally represent the agency at Oregon schools and meetings of special interest groups
Effectively operate and negotiate a vehicle on rough terrain
Professional development or college courses in natural resource management, criminology, psychology, business management or sciences
Ability to use word processing, spreadsheet, database and email software in a networked environment
Ability to engage in mechanical work.
Ability to use professional level English grammar, spelling, punctuation, vocabulary, and composition; reading and comprehension
Ability to use foundational math skills including advanced arithmetic, payroll/accounts receivable, and estimation
Additional languages are an asset
Fish and Wildlife Trooper Salaries
As employees of the Fish and Wildlife Division of the Oregon State Police, fish and wildlife troopers are paid in accordance with the same salary schedule that applies to state troopers.  These salaries progress through a successive seven-step schedule as shown below:
Step 1 – $56,184
Step 2 (6-month) – $58,992
Step 3 – $61,932
Step 4 – $65,028
Step 5 – $68,292
Step 6 – $71,000
Step 7 – $75,288
The Oregon State Police rewards its troopers for educational achievement with a 3% increase for troopers with an associate's degree and a 5% increase for those with a bachelor's degree.
Oregon Department of Fish and Wildlife
4034 Fairview Industrial Drive SE
Salem, OR 97302
Phone: (800) 720-6339
http://www.oregon.gov/osp/FW/Pages/typicalday.aspx
School Programs
Program
Programs Offered

Blue Mountain Community College

2411 NW Carden Ave

,

Pendleton

,

OR

97801

Central Oregon Community College

2600 NW College Way

,

Bend

,

OR

97701

Criminal Justice
Forest Firefighting and Investigation

Chemeketa Community College

4000 Lancaster Dr NE

,

Salem

,

OR

97305

Clackamas Community College

19600 Molalla Ave

,

Oregon City

,

OR

97045-8980

Concordia University-Portland

2811 NE Holman Street

,

Portland

,

OR

97211-6099

Eastern Oregon University

One University Blvd

,

La Grande

,

OR

97850

George Fox University

414 N Meridian St

,

Newberg

,

OR

97132

Lane Community College

4000 E 30th Ave

,

Eugene

,

OR

97405-0640

Water, Wetlands and Marine Resources Management
Criminal Justice

Lewis & Clark College

0615 S W Palatine Hill Rd

,

Portland

,

OR

97219-7899

Linfield College-McMinnville Campus

900 SE Baker

,

McMinnville

,

OR

97128-6894

Linn-Benton Community College

6500 Pacific Blvd SW

,

Albany

,

OR

97321

Mt Hood Community College

26000 SE Stark St

,

Gresham

,

OR

97030

Natural Resources, Conservation
Fishing and Fisheries Sciences and Management

Oregon Coast Community College

400 SE College Way

,

Newport

,

OR

97366

Marine Biology and Biological Oceanography

Oregon Health & Science University

3181 SW Sam Jackson Park Rd

,

Portland

,

OR

97239-3098

Oregon Institute of Technology

3201 Campus Drive

,

Klamath Falls

,

OR

97601-8801

Oregon State University

1500 S.W. Jefferson

,

Corvallis

,

OR

97331

Natural Resources, Conservation
Natural Resources Management and Policy
Water, Wetlands and Marine Resources Management
Fishing and Fisheries Sciences and Management
Forestry
Forest Sciences and Biology
Forest Resources Management
Wildlife and Wildlands Science and Management
Biology
Botany, Plant Biology
Microbiology
Zoology and Animal Biology

Pacific University

2043 College Way

,

Forest Grove

,

OR

97116

Portland Community College

12000 SW 49th Avenue

,

Portland

,

OR

97219-7132

Zoology and Animal Biology
Criminal Justice
Security and Protective Services

Portland State University

724 SW Harrison

,

Portland

,

OR

97201

Natural Resources Management and Policy
Biology
Criminal Justice

Reed College

3203 SE Woodstock Blvd

,

Portland

,

OR

97202-8199

Southern Oregon University

1250 Siskiyou Blvd

,

Ashland

,

OR

97520

Biology
Botany, Plant Biology
Criminal Justice

Southwestern Oregon Community College

1988 Newmark Ave

,

Coos Bay

,

OR

97420-2193

Natural Resources Management and Policy
Criminal Justice

Tillamook Bay Community College

4301 Third St.

,

Tillamook

,

OR

97141

Treasure Valley Community College

650 College Blvd

,

Ontario

,

OR

97914

Natural Resources, Conservation
Wildlife and Wildlands Science and Management
Biology
Criminal Justice

Umpqua Community College

1140 Umpqua College Rd.

,

Roseburg

,

OR

97470-0226

Law Enforcement Administration

University of Oregon

110 Johnson Hall

,

Eugene

,

OR

97403

Biology
Marine Biology and Biological Oceanography

University of Portland

5000 N Willamette Blvd

,

Portland

,

OR

97203-5798

Warner Pacific College

2219 SE 68th Ave

,

Portland

,

OR

97215

Western Oregon University

345 North Monmouth Ave

,

Monmouth

,

OR

97361-1394

Willamette University

900 State St

,

Salem

,

OR

97301
Featured Programs: Sponsored School(s) Sponsored School(s) All school search, finder, or match results, as well as colleges and universities displayed…