<!- mfunc search_box_nav ->
<!- /mfunc search_box_nav ->
<!- mfunc feat_school ->
Featured Programs:
Sponsored School(s)
Sponsored School(s)
All school search, finder, or match results, as well as colleges and universities displayed as "Featured School(s)" or "Sponsored Content" are advertisers that compensate us for placement on this site. The resources, editorial content, and school evaluations published on this site are developed independent of the schools that advertise here.
<!- /mfunc feat_school ->
Virginia's state game wardens work for the Virginia Department of Game and Inland Fisheries and are known as conservation police officers. The state is also home to Federal Wildlife Officers that work for the U.S. Fish and Wildlife Service. Intercepting poachers is one of their key duties within the natural habitats that range from two inland national forests to the Atlantic coastline.
Conservation police officers in Virginia face everything from big game poachers in its forests to those who illegally harvest marine life. For example, harvesting undersized oysters is a particular problem in Virginia.
In addition to their law enforcement duties, Virginia's conservation police officers analyze wildlife and habitats, assess habit damage and remediate it, and educate the public on conservation law and practices.
These range of duties make the job of a Virginia conservation police officer a challenging one. Still, there is stiff competition for available positions and the demand for these jobs outstrips the supply.
Applicants who have a thorough understanding of the requirements and application processes are better prepared to pass the hiring committee's rigorous selection process. Read on to determine which qualifications will help potential game wardens gain employment in the field.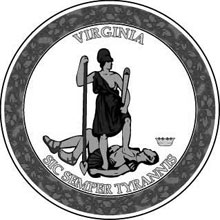 Virginia Game Warden Eligibility Requirements
Individuals with law enforcement expertise and a passion for the outdoors, fishing, or hunting make ideal candidates for Virginia's conservation police officer jobs. With roles ranging from law enforcement to educating student groups about the value of conservation in Virginia, applicants should be prepared to demonstrate everything from strong communication skills to a basic knowledge of state law and arrest procedures.
Virginia Department of Game and Inland Fisheries Job Qualifications
Additional information on the requirements to become a conservation police officer as well as job postings can be found on the website of the Virginia Department of Game and Inland Fisheries.
Age: 21 years of age or older at the time of academy entrance
Citizenship: Proof of U.S. citizenship or of permanent resident alien status for those who are eligible and have applied for citizenship. Must be a resident of the state at the time of appointment.
License: A valid Virginia-issued driver's license is required. Individuals must maintain a good driving record.
Military Service: Applicants who are former members of the United States military require 'Under Honorable Conditions' discharge documentation.
Work Eligibility: New employees must present original documents that establish identity and eligibility for U.S. employment opportunities as per federal law – applicants must be eligible to accept employment before the process continues
Background and Legal History: Applicants must pass an intensive background check and urinalysis to complete the application process. You may be disqualified if you have been:
Convicted of a felony in Virginia or any other state;
Convicted of any offense in any state that would have been a felony if committed in Virginia;
Charged with a crime of domestic or sexual violence
Addicted to drugs or narcotics
Convicted of any offense which precludes you from carrying a firearm under State or federal law
Academic Credentials: High school diploma or GED is required; completion of two years of college with a major in biological sciences, police science or law enforcement, natural resources conservation, ecology or related fields. Candidates who wish to challenge the guideline with equivalent credentials may submit them for review.
Post Academy and Field Training
POST Training:
29 weeks of Basic Law Enforcement Academy which includes modules on foundational concepts in law enforcement
Field Training Program
15 weeks with an experienced conservation officer. Modules include:
Firearms
Virginia State and federal laws
Emergency first aid
Swimming
Wildlife crime scene processing
Suspect arrest and detention
Patrol and pursuit maneuvers
Personal self -defense
Interview: Candidates will have a face-to-face panel interview during the later stages of the application process
Medical Condition: The applicant must be examined by a licensed physician to ensure that they are in good health.
Hearing: Candidates should have a 'normal' range of hearing and may be subject to a hearing test.
Vision: Vision corrected to 20/20 in each eye. Normal binocular color vision with no other conditions is required for the role; night vision must be 'normal'. Candidates who have undergone corrective eye surgery to meet minimum visual standards may be required to submit additional information for review.
Physical Readiness: The applicant must be in sound physical condition and able to swim. Applicants must successfully complete each component of the physical readiness testing which may include:
Timed sit-ups
Push-ups to failure
Timed distance run
Timed sprint
Timed obstacle course
Tread water to failure
Timed lengths in a pool
Psychological Condition: The applicant must be in suitable psychological and emotional health to complete training and be eligible for hire
Knowledge, Skills, Abilities, and Desired Qualifications
Use and carry various firearms safely and effectively
Innovative, intuitive and engaging while on patrol by a variety of means.
Demonstrate an aptitude for collecting and preserving evidence, writing reports, and testifying in court.
Ability to promote and coordinate hunter education programs
Ability to collect and report information on the conditions of fish and wildlife and their habitat
Willingness to enthusiastically and professionally represent the agency at Virginia schools and meetings of special interest groups
Effectively operate and negotiate a vehicle on rough terrain
Professional development or college courses in natural resource management, criminology, psychology, business management or sciences
Ability to use word processing, spreadsheet, database and email software in a networked environment
Ability to use proprietary software
Mechanical aptitude and logical thinking.
Ability to use professional level English grammar, spelling, punctuation, vocabulary, and composition; reading and comprehension
Ability to use foundational math skills including advanced arithmetic, payroll/accounts receivable, and estimation
Casual or professional proficiency in additional languages is an asset
Conservation Police Officer Salaries
The US Department of Labor, Bureau of Labor Statistics (BLS) reported that the median salary among conservation police officers in Virginia was $45,990 ($22.11/hour) as of 2016.  Officers here earned an overall average of $49,010 ($23.56/hour) that year, while those with the most experience earning within the top 10% earned an average of $64,790 ($31.15).
Conservation police officers in two of Virginia's metropolitan areas were among the highest paid of any urban area in the country in 2016:
Virginia Beach-Norfolk-Newport News– ($46,190-$57,210) 9th highest in the nation
Richmond – ($45,260-$65,230) 10th highest in the nation
Virginia Department of Game and Inland Fisheries
P.O. Box 90778
Henrico, VA 23228-0778
Phone: (804) 367-3443
http://www.dgif.virginia.gov/law-enforcement/recruiting/
School Programs
Program
Programs Offered

Averett University

420 W Main St

,

Danville

,

VA

24541

Biology
Ecology
Law Enforcement Administration

Averett University-Non-Traditional Programs

420 W Main St

,

Danville

,

VA

24541

Ecology
Law Enforcement Administration

Blue Ridge Community College

1 College Lane

,

Weyers Cave

,

VA

24486-0080

Natural Resources, Conservation
Law Enforcement Administration

Bluefield College

3000 College Dr

,

Bluefield

,

VA

24605

Bridgewater College

402 E College St

,

Bridgewater

,

VA

22812-1599

Central Virginia Community College

3506 Wards Rd

,

Lynchburg

,

VA

24502-2498

Natural Resources, Conservation
Law Enforcement Administration

Christopher Newport University

1 Avenue of the Arts

,

Newport News

,

VA

23606-3072

College of William and Mary

200 Richmond Road

,

Williamsburg

,

VA

23187-8795

Biology
Marine Biology and Biological Oceanography

Dabney S Lancaster Community College

1000 Dabney Drive

,

Clifton Forge

,

VA

24422-1000

Natural Resources, Conservation
Law Enforcement Administration

Danville Community College

1008 S Main St

,

Danville

,

VA

24541-4004

Natural Resources, Conservation
Law Enforcement Administration

Eastern Mennonite University

1200 Park Rd

,

Harrisonburg

,

VA

22802-2462

Eastern Virginia Medical School

700w. Olney

,

Norfolk

,

VA

23507

Emory & Henry College

30461 Garnand Drive

,

Emory

,

VA

24327-0947

Ferrum College

215 Ferrum Mountain Road

,

Ferrum

,

VA

24088-9000

George Mason University

4400 University Dr

,

Fairfax

,

VA

22030-4444

Biology
Law Enforcement Administration

Germanna Community College

2130 Germanna Hwy

,

Locust Grove

,

VA

22508-2102

Law Enforcement Administration

Hampden-Sydney College

College Road

,

Hampden-Sydney

,

VA

23943-0128

Hampton University

E Queen Street

,

Hampton

,

VA

23668-0099

Biology
Marine Biology and Biological Oceanography
Law Enforcement Administration
Criminal Justice
Security and Protective Services

Hollins University

7916 Williamson Rd NW

,

Roanoke

,

VA

24020

J Sargeant Reynolds Community College

1651 E Parham Road

,

Richmond

,

VA

23228-2327

Law Enforcement Administration

James Madison University

800 South Main Street

,

Harrisonburg

,

VA

22807

John Tyler Community College

13101 Jefferson Davis Hwy

,

Chester

,

VA

23831-5316

Law Enforcement Administration

Liberty University

1971 University Blvd

,

Lynchburg

,

VA

24515

Longwood University

201 High St

,

Farmville

,

VA

23909

Lord Fairfax Community College

173 Skirmisher Lane

,

Middletown

,

VA

22645

Natural Resources, Conservation
Law Enforcement Administration

Lynchburg College

1501 Lakeside Dr

,

Lynchburg

,

VA

24501-3113

Natural Resources, Conservation
Biology

Mary Baldwin College

New & Frederick St

,

Staunton

,

VA

24401

Marymount University

2807 N Glebe Rd

,

Arlington

,

VA

22207-4224

Biology
Law Enforcement Administration

Mountain Empire Community College

3441 Mountain Empire Road

,

Big Stone Gap

,

VA

24219

Natural Resources, Conservation
Law Enforcement Administration

New River Community College

5251 College Drive

,

Dublin

,

VA

24084-1127

Natural Resources, Conservation
Law Enforcement Administration

Norfolk State University

700 Park Avenue

,

Norfolk

,

VA

23504-8000

Northern Virginia Community College

4001 Wakefield Chapel Rd

,

Annandale

,

VA

22003-3796

Law Enforcement Administration

Old Dominion University

5115 Hampton Blvd

,

Norfolk

,

VA

23529

Patrick Henry Community College

645 Patriot Avenue

,

Martinsville

,

VA

24112

Law Enforcement Administration

Paul D Camp Community College

100 N College Dr

,

Franklin

,

VA

23851

Law Enforcement Administration

Piedmont Virginia Community College

501 College Drive

,

Charlottesville

,

VA

22902-7589

Law Enforcement Administration

Radford University

801 East Main Street

,

Radford

,

VA

24142

Randolph College

2500 Rivermont Ave

,

Lynchburg

,

VA

24503-1555

Randolph-Macon College

204 Henry St

,

Ashland

,

VA

23005-5505

Rappahannock Community College

12745 College Drive

,

Glenns

,

VA

23149-2616

Law Enforcement Administration

Regent University

1000 Regent University Dr

,

Virginia Beach

,

VA

23464

Law Enforcement Administration

Roanoke College

221 College Lane

,

Salem

,

VA

24153-3794

Natural Resources Management and Policy
Biology
Criminal Justice

Shenandoah University

1460 University Dr

,

Winchester

,

VA

22601-5195

Biology
Law Enforcement Administration

Southern Virginia University

One University Hill Drive

,

Buena Vista

,

VA

24416

Southside Virginia Community College

109 Campus Dr

,

Alberta

,

VA

23821

Natural Resources, Conservation
Law Enforcement Administration

Southwest Virginia Community College

369 College Road US Rt. 19, 6 Miles S. Claypool Hill

,

Richlands

,

VA

24641-1101

Natural Resources, Conservation
Law Enforcement Administration

Sweet Briar College

134 Chapel Drive

,

Sweet Briar

,

VA

24595-9998

Thomas Nelson Community College

99 Thomas Nelson Drive

,

Hampton

,

VA

23666

Law Enforcement Administration

Tidewater Community College

121 College Place

,

Norfolk

,

VA

23510

Law Enforcement Administration

University of Mary Washington

1301 College Ave

,

Fredericksburg

,

VA

22401-5300

University of Richmond

28 Westhampton Way

,

University of Richmond

,

VA

23173

University of Virginia-Main Campus

1827 University Avenue

,

Charlottesville

,

VA

22903-2628

Virginia Commonwealth University

910 W Franklin St

,

Richmond

,

VA

23284-2512

Biology
Law Enforcement Administration
Security and Protective Services

Virginia Highlands Community College

100 VHCC Drive

,

Abingdon

,

VA

24212-0828

Law Enforcement Administration

Virginia Military Institute

VMI Parade

,

Lexington

,

VA

24450-0304

Virginia Polytechnic Institute and State University

210 Burruss Hall, 800 Drillfield Dr.

,

Blacksburg

,

VA

24061-0131

Natural Resources Management and Policy
Fishing and Fisheries Sciences and Management
Forestry
Biology

Virginia State University

1 Hayden Drive

,

Petersburg

,

VA

23806

Virginia Union University

1500 N Lombardy St

,

Richmond

,

VA

23220

Virginia Wesleyan College

1584 Wesleyan Dr

,

Norfolk

,

VA

23502-5599

Virginia Western Community College

3093 Colonial Ave

,

Roanoke

,

VA

24015

Natural Resources, Conservation
Law Enforcement Administration

Washington and Lee University

204 West Washington Street

,

Lexington

,

VA

24450-2116

Wytheville Community College

1000 E Main Street

,

Wytheville

,

VA

24382-3308

Natural Resources, Conservation
Law Enforcement Administration
Featured Programs: Sponsored School(s) Sponsored School(s) All school search, finder, or match results, as well as colleges and universities displayed…