<!- mfunc search_box_nav ->
<!- /mfunc search_box_nav ->
<!- mfunc feat_school ->
Featured Programs:
Sponsored School(s)
Sponsored School(s)
All school search, finder, or match results, as well as colleges and universities displayed as "Featured School(s)" or "Sponsored Content" are advertisers that compensate us for placement on this site. The resources, editorial content, and school evaluations published on this site are developed independent of the schools that advertise here.
<!- /mfunc feat_school ->
At the state level, game wardens work as fully-commissioned peace officers for the Washington Department of Fish and Wildlife and are known as fish & wildlife enforcement officers.
Washington abounds in diverse habitats for wildlife, birds, and marine life, giving conservation officers equally diverse opportunities to patrol everything from inland waterways and protected wetlands to high desert terrain.
Within these different biomes, Washington's fish & wildlife enforcement officers support conservation efforts through both a purely law enforcement approach like investing and setting up stings to bust illegal hunting and harvesting operations, to a more scientifically-focused approach like conducting surveys of fish and game populations and observing migratory patterns.
Fish & wildlife enforcement officers also interact with the public to conduct hunter safety, water safety and even firearms training classes. Officers also speak to students, scout groups and other local organizations about challenges to conservation efforts in Washington.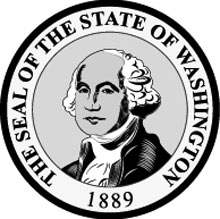 Washington Game Warden Eligibility Requirements
Men and women who have a passion for both law enforcement and working outdoors make ideal candidates for fish & wildlife enforcement officer jobs.
In addition to intercepting poachers and advocating for the protection of Washington's diverse habitats, these officers also partner with other agencies on everything from public education on conservation efforts, managing volunteer programs, investigating wildlife crimes, and emergency management preparedness drills.
This diverse set of roles means that applicants should be prepared to highlight their expertise in both law enforcement and conservation to increase their chances of being selected as a candidate.
Job Qualifications for the Washington Department of Fish and Wildlife
Washington residents who wish to become a fish & wildlife enforcement officer can find job postings on the Washington Department of Fish and Wildlife website. Eligibility criteria for these positions are shown below:
Age: 21 years of age or older at the time of academy training
Citizenship: Proof of U.S. citizenship or of permanent resident alien status for those who are eligible and have applied for citizenship. Must be a resident of Washington State at the time of hire.
License: A valid Washington-issued driver's license is required. Employees agree to participate in good-driver training programs through the state as they arise.
Military Service: Applicants who are former members of the United States military require 'Under Honorable Conditions' discharge documentation.
Work Eligibility: New employees must present original documents that establish identity and eligibility for U.S. employment opportunities as per federal law – applicants must be eligible to accept employment before the process continues
Background and Legal History: Candidates are subject to a thorough background investigation and references check before being eligible for hire. A urinalysis and polygraph test may also be performed. Disqualifying elements include:
Convicted of a felony in Washington or any other state
Convicted of any offense in any state which would have been a felony if committed in Washington
Charged with a felony found to be mentally incompetent
Found not guilty by reason of insanity of any felony
Determined to be a mentally disordered sex offender
Addicted or in danger of becoming addicted to narcotics
Convicted, and committed to a State institution
Convicted of any offense which precludes you from carrying a firearm under State or federal law
Failed drug testing
Academic Credentials: High school diploma or its equivalent as well as a bachelor's degree in a relevant field like criminal justice or the natural resource sciences, OR an associate's (2 year) degree and two years of full-time employment working in natural resources, OR an associate's degree and three years of recent active military service.
Additional Requirements: Initial test via the Public Safety Testing Company
Law Enforcement and Field Training
Basic Law Enforcement Academy
720 hours of training on basic law enforcement tactics to prepare recruits for the authority to arrest, pursue, and use force as municipal police officers and sheriff's deputies.
Game Warden Training
One month of in-house training, conducted in Olympia, Washington wherein recruits learn the specifics of law enforcement as it applies to the role of game warden - sworn to serve and protect the state's wildlife and natural environment.
Field Training Officer
12 weeks partnered with an experienced fish and wildlife enforcement training officer.
Interview: Candidates will have a face-to-face panel interview during the later stages of the application process
Medical Condition: The applicant must be examined by a licensed physician to ensure that they are in good health.
Hearing: The applicant must have hearing adequate to perform all the essential duties of the role as game warden, including long distance, directional and voice conversation hearing.
Vision: Visual acuity not less than 20/40 in each eye corrected. Normal color vision and possessed of a peripheral field of view of at least 120 degrees horizontally and 100 degrees vertically.
Physical Readiness: The applicant must be in sound physical condition and able to swim. Applicants must successfully complete each component of the physical readiness testing:
300-meter run
Push-ups
Sit-ups
1.5-mile run/walk
Psychological Condition: Applicants will participate in a psychological assessment to determine their suitability for hire.
Knowledge, Skills, Abilities, and Desired Qualifications
Required to carry and use various firearms and weaponry
Capable of patrolling on foot, on horseback, by plane, boats, and in a variety of vehicles
Demonstrate an aptitude for collecting and preserving evidence, writing reports, and testifying in court.
Ability to promote and coordinate hunter education programs
Ability to collect and report information on the conditions of fish and wildlife and their habitat
Willingness to enthusiastically and professionally represent the agency at Washington schools and meetings of special interest groups
Effectively operate and negotiate a vehicle on rough terrain
Professional development or college courses in natural resource management, criminology, psychology, business management or sciences
Ability to use word processing, spreadsheet, database and email software in a networked environment
Ability to make minor vehicle repairs
Ability to use professional level English grammar, spelling, punctuation, vocabulary, and composition; reading and comprehension
Ability to use foundational math skills including advanced arithmetic, payroll/accounts receivable, and estimation
Additional languages are an asset
Fish & Wildlife Enforcement Officer Salaries
Washington State's fish & wildlife enforcement officers earn exceptionally high wages compared to game wardens in the rest of the country, with a median salary nearly 32% higher than the national median.  Even Washington's fish & wildlife enforcement officers earning salaries that fell within the bottom 25% earned more than the overall national average for the profession.
The Washington Employment Security Department provides the salaries for the state's wildlife enforcement officers at various levels (2016):
Median: $68,224 ($32.80 hourly)
Top 25%: $69,909 ($33.61 hourly)
Average: $63,336 ($30.45 hourly)
Bottom 25%: $57,346 ($27.57 hourly)
Washington's Office of Financial Management reported the salary ranges for fish & wildlife enforcement officers, detectives and sergeants as of 2017. Differences in minimum and maximum pay for each rank are accounted for by time in service with the Washington Department of Fish and Wildlife, education, specialized role and differences in locality pay:
Fish & Wildlife Enforcement Officer 1: $48,060 – $64,620
Fish & Wildlife Enforcement Officer 2: $53,016 – $71,316
Fish & Wildlife Enforcement Officer 3: $55,728 – $74,964
Fish & Wildlife Enforcement Detective: $60,012 – $80,724
Fish & Wildlife Enforcement Sergeant: $64,620 – $86,916
Washington Department of Fish and Wildlife
600 Capitol Way N.
Olympia, WA 98501-1091
Phone: (360) 902-2200
http://wdfw.wa.gov/enforcement/careers/
School Programs
Program
Programs Offered

Bastyr University

14500 Juanita Drive NE

,

Kenmore

,

WA

98028-4966

Natural Resources, Conservation

Bellevue College

3000 Landerholm Cir SE

,

Bellevue

,

WA

98007-6484

Law Enforcement Administration

Bellingham Technical College

3028 Lindbergh Ave

,

Bellingham

,

WA

98225-1599

Fishing and Fisheries Sciences and Management

Central Washington University

400 East University Way

,

Ellensburg

,

WA

98926-7501

Natural Resources Management and Policy
Biology
Criminal Justice

Centralia College

600 Centralia College Blvd.

,

Centralia

,

WA

98531-4099

Forestry
Biology
Law Enforcement Administration

Clark College

1933 Fort Vancouver Way

,

Vancouver

,

WA

98663-3598

Clover Park Technical College

4500 Steilacoom Blvd SW

,

Lakewood

,

WA

98499-4004

Security and Protective Services

Columbia Basin College

2600 N 20th Ave

,

Pasco

,

WA

99301

Law Enforcement Administration

Eastern Washington University

526 5th Street

,

Cheney

,

WA

99004-2496

Wildlife and Wildlands Science and Management
Biology

Edmonds Community College

20000 68th Ave W

,

Lynnwood

,

WA

98036-5912

Gonzaga University

E 502 Boone Ave

,

Spokane

,

WA

99258-0001

Grays Harbor College

1620 Edward P Smith Drive

,

Aberdeen

,

WA

98520-7599

Green River Community College

12401 SE 320th St

,

Auburn

,

WA

98092-3622

Water, Wetlands and Marine Resources Management
Forest Firefighting and Investigation

Heritage University

3240 Fort Rd

,

Toppenish

,

WA

98948

Natural Resources, Conservation
Biology
Criminal Justice

Highline College

2400 S 240th St

,

Des Moines

,

WA

98198-9800

Biology
Law Enforcement Administration

Lower Columbia College

1600 Maple Street

,

Longview

,

WA

98632-0310

Law Enforcement Administration

Northwest University

5520 108th Ave NE

,

Kirkland

,

WA

98083-0579

Pacific Lutheran University

1010 122nd St So

,

Tacoma

,

WA

98447-0003

Peninsula College

1502 E Lauridsen Blvd

,

Port Angeles

,

WA

98362

Fishing and Fisheries Sciences and Management
Law Enforcement Administration

Pierce College-Fort Steilacoom

9401 Farwest Dr SW

,

Lakewood

,

WA

98498-1999

Biology
Law Enforcement Administration

Pierce College-Puyallup

1601 39th Ave SE

,

Puyallup

,

WA

98374-2222

Biology
Law Enforcement Administration

Saint Martin's University

5000 Abbey Way SE

,

Lacey

,

WA

98503-7500

Seattle Pacific University

3307 3rd Ave W

,

Seattle

,

WA

98119-1997

Seattle University

900 Broadway

,

Seattle

,

WA

98122-4340

Biology
Conservation Biology
Criminal Justice

Shoreline Community College

16101 Greenwood Ave N

,

Shoreline

,

WA

98133-5696

Law Enforcement Administration

Skagit Valley College

2405 E. College Way

,

Mount Vernon

,

WA

98273

Natural Resources, Conservation
Water, Wetlands and Marine Resources Management
Natural Resources Law Enforcement and Protective Services
Biology
Law Enforcement Administration
Security and Protective Services

South Puget Sound Community College

2011 Mottman Rd SW

,

Olympia

,

WA

98512-6292

South Seattle College

6000 16th Ave SW

,

Seattle

,

WA

98106-1499

Natural Resources Management and Policy

Spokane Community College

1810 North Greene Street

,

Spokane

,

WA

99217-5399

Water, Wetlands and Marine Resources Management
Wildlife and Wildlands Science and Management
Biology
Security and Protective Services

Spokane Falls Community College

3410 W Fort George Wright Dr

,

Spokane

,

WA

99224-5288

Tacoma Community College

6501 S 19th St

,

Tacoma

,

WA

98466-6100

Biology
Law Enforcement Administration

The Evergreen State College

2700 Evergreen Pkwy NW

,

Olympia

,

WA

98505-0001

Natural Resources Management and Policy

University of Puget Sound

1500 N. Warner Street

,

Tacoma

,

WA

98416

University of Washington-Bothell Campus

18115 Campus Way NE

,

Bothell

,

WA

98011-8246

University of Washington-Seattle Campus

1400 NE Campus Parkway

,

Seattle

,

WA

98195-4550

Natural Resources Management and Policy
Fishing and Fisheries Sciences and Management
Forest Sciences and Biology
Forest Resources Management
Wildlife and Wildlands Science and Management
Natural Resources and Conservation
Biology
Botany, Plant Biology
Microbiology
Zoology and Animal Biology

Walla Walla Community College

500 Tausick Way

,

Walla Walla

,

WA

99362-9267

Natural Resources, Conservation
Biology

Walla Walla University

204 S College Ave

,

College Place

,

WA

99324-1198

Washington State University

French Administration Building

,

Pullman

,

WA

99164-5910

Natural Resources, Conservation
Natural Resources Management and Policy
Forestry
Forest Resources Management
Wildlife and Wildlands Science and Management
Biology
Botany, Plant Biology
Microbiology
Zoology and Animal Biology
Wildlife Biology

Wenatchee Valley College

1300 Fifth St

,

Wenatchee

,

WA

98801-1799

Natural Resources, Conservation

Western Washington University

516 High Street

,

Bellingham

,

WA

98225-9008

Biology
Marine Biology and Biological Oceanography

Whatcom Community College

237 W Kellogg Rd

,

Bellingham

,

WA

98226

Law Enforcement Administration

Whitman College

345 Boyer Ave

,

Walla Walla

,

WA

99362

Biology
Environmental Biology

Whitworth University

300 W Hawthorne Rd

,

Spokane

,

WA

99251

Yakima Valley Community College

South 16th Ave. & Nob Hill Blvd.

,

Yakima

,

WA

98907-2520

Law Enforcement Administration
Featured Programs: Sponsored School(s) Sponsored School(s) All school search, finder, or match results, as well as colleges and universities displayed…